Support organisations and departments
What is 21st Century Education. Like Alice, many educators, policy makers and even the general public respond resoundingly with "That's impossible!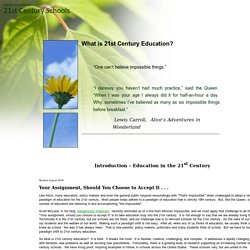 " when challenged to adopt a new paradigm of education for the 21st century. Most people today adhere to a paradigm of education that is strictly 19th century. Teachers toolbox by Mediamerge. ICT in schools 2008-11. Home - The Department for Education. The TES - Education Jobs, Teaching Resources, Magazine & Forums. Home page.
---