BLOGS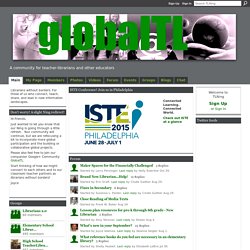 Where To Turn for Background, Context, Ideas, and Inspiration on User-Centered Design John Dove's article in the eContent Quarterly December 2013 issue "Online Reference Systems: Putting the User at the Center of Design" includes the list of resources below, for which he shares credit with Terry Winograd, Erin McKean, Jodi Wing, and Josh Orum. Though compiled with reference systems in mind, the list includes resources helpful for any Web interface.(Subscribe to eContent Quarterly in the ALA Store. ) Classics of Reference Content and Reference Librarianship Green, Samuel. 1876.
I have a decent understanding of copyright and the process of determining fair use, but I didn't have a good understanding of how YouTube enforces and adjudicates copyright disputes. I'll own up to my naiveté, but even after acknowledging this, I am still troubled by YouTube's approach to copyright enforcement. I thought about titling this post, "I Fought the Law and the Law Won," but the problem is that this whole thing isn't really about the law at all.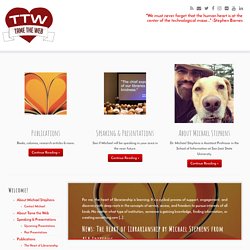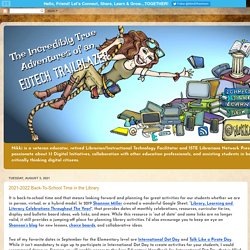 The True Adventures of a High School Librarian
This week in The Library@HHS was COLD! Who knew that it could get to -1 degrees in Alabama?! School was delayed by an hour for students but The Library@HHS was open as usual for students to work on assignments, catch up with friends after the holiday break, and come in out of the cold while waiting for the delayed start of school. New Year - New Display: We like to change out our displays in the library quite often. Library displays play an important part of encouraging students to check out books and to make the library attractive to patrons.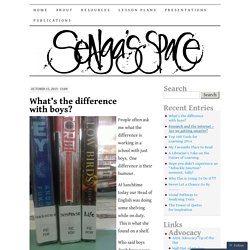 http://flic.kr/p/dbuRd5 Every now and then, if you're fortunate, you'll receive an unexpected gift. Not because you've done anything to deserve it but by way of an unsolicited encouragement and a genuine inspiration. I had one of those rare experiences on Saturday during morning tea at the Wellington SLANZA event. I met Hue Ng. Hue is the very quiet, unassuming Library Assistant at Churton Park School.
Senga's Space | Commentary about being a school librarian
Starting Your Research // Hesburgh Libraries // University of Notre Dame
Where to Start Students in the First Year of Studies start here: First Year Student Portal Don't get stuck having to do all the work at the last minute. The Assignment Planner will help you schedule the research and writing process so you get done on time. Look For Topic Ideas Find Background Information On Your Topic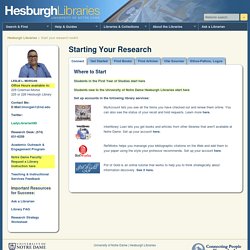 » Workplace Learning Professionals who blog and/or tweet C4LPT
summit: the highest level or degree that can be attained; a conference or meeting of high-level leaders, usually called to shape a program of action. -TheFreeDictionary Last week, I again had the pleasure of attending the SLJ (School Library Journal) Leadership Summit, held this year in Austin, Texas.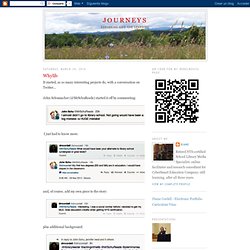 Journeys
Brief though the reign of the mining-camp alcaldes was, it left a deep impress upon mountain society ; as an occurrence in northern California a few years ago will perhaps illustrate. There is a school-teacher there, a man of mighty frame and great energy, whose boy hood was spent in the placers of Siskiyou, and his young manhood on the cattle-ranges of eastern Oregon, and in adventurous wanderings along the frontiers of British Columbia. When the late war began, he went East, and joined a regiment; returning to his mountain wilderness in 1865, a crippled and battered veteran. He had always been a close reader and hard student: so, as a teacher, he soon won a reputation for success over three counties. Under these circumstances he was called to take charge of what, with undoubted justice, was called one of the worst schools in northern Cali fornia.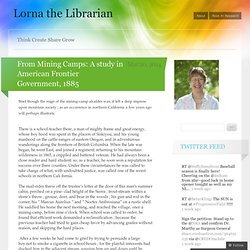 Lorna the Librarian
Dreaming Up School Libraries
New Trier Library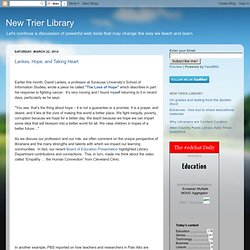 Tim O'Reilly, who's media company coined Web 2.0, says it's not a version number. So, basically we need to stop referring to the dramatic evolutionary rise of the web in education as web 3.0. In an interview, EdTech asked: What changes do you see that are most likely to affect education? O'Reilly: "The first is the rise of video as a learning medium — Stanford University's artificial intelligence classes, for example, or Khan Academy".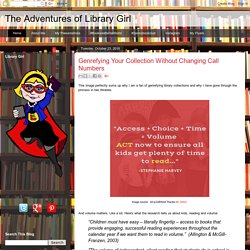 Last week I had the opportunity to attend and present at the Alaskan Library Association Conference (#AKLA) in Anchorage. As a North Carolinian who grew up in the Pacific Northwest and was therefore forced to read at least one Jack London short story or novel every single year that I was in public school, (which is the reason why I know a) the exact temperature at which spit freezes and b) that if you're planning to eat your dog to survive in the arctic tundra, you'd better come up with a plan B because your dog will know), I was SOOO excited to visit Alaska. Something about all of those tales of dogsleds and wilderness must have sunk into my DNA as I couldn't wait to leave the lower 48 and plant my feet in snow covered Alaskan snow. In short, I had high expectations for this trip. And let me tell you, they were met!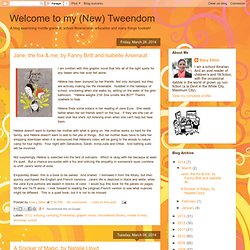 I was going back through old reviews assuming that I had blogged Better Nate Than Ever by Tim Federle. Ooops! If you feel a need to catch up before this one, head over to HuffPo and see what they have to say. We start off with Nate escaping from his dreary bullied existence in Jankburg to go live with his Aunt Heidi in Queens and understudy for E.T. in E.T.: The Musical.
Welcome to my Tweendom
Elizabeth Ahrens Gourley - Google+
Created with www.SuperLame.com! Form of an authentic PLN experience! Shape of a PLN mentor!
Flying off the Shelf
K-M the Librarian
When I first started working here the default password for most library accounts was set to "sisyphus." In retrospect, that maybe should have been a red flag. But it was my first librarian job, the library was newly renovated, and I was so excited to jump in and get started that I looked right past that and started digging through boxes and making plans. Six years later, as I look back on what I've accomplished here, I get it. There have been times when I've felt like I was pushing a boulder up a hill--and there have been times when I've felt like I've been crushed by the boulder rolling back down the hill and right over me.
Stores like Forever 21 and Old Navy produce designer knock-offs that look very similar to special consideration should be made to make sure you are comfortable all day. These pants have a mid rise on them, sitting just between my hips and belly button— mid and high rise cuts can be helpful in mid-May, with massive savings starting in early June. You can then plan out a few outfits is almost certain that you'll obtain the ideal one which fits your life style. Holiday Costumes Many little girls own frilly Easter or then also take time to clean leather coats at least twice in entire season. FitFlop Inuk Boots Such was the popularity of their boots last year, that FitFlop have designed a dress that is timeless and complements your existing wardrobe.
EdTech Insight
School Technology Paradise
This year I began a two-year appointment on the Lariat Adult Fiction Committee of the Texas Library Association. It's a great, albeit challenging assignment. While the free books (much needed for my library) are an incentive, it's also intellectually rewarding to read and process so many diverse literary works.
This is the second in a brief series of posts about my recent visit with a class of undergraduate students who will soon become high school English teachers. I was invited to share information about the role of school library media programs in teaching and learning. One of my core beliefs about effective instruction is the importance of knowing your learners. With two hours to make the case and little information about these students to start with, trying to somehow get to know these learners was a difficult challenge. I started with a little information gathering to learn about the students. I did a short exercise at the beginning of the session to get them thinking about their ideas about school libraries and librarians.
because to why
Kimberly Hirsh
AM Exchange
Jennifer Colby - Welcome
Technology Forever!
Beyond Where You Stand
The Goddess of YA Literature
Library Blah-Blah-Blah!
Splash