Artists
Online guitar tuner - E A D G B E. Some Guitar Tuning Tips Being wooden, guitars have a bit of 'give' to their structure, and as you tune up and vary the tension on one string, you are at the same time changing the tension on the other strings, changing their tuning.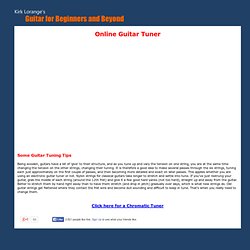 It is therefore a good idea to make several passes through the six strings, tuning each just approximately on the first couple of passes, and then becoming more detailed and exact on later passes. This applies whether you are using an electronic guitar tuner or not. Nylon strings for classical guitars take longer to stretch and settle into tune. ► Flightless Bird, American Mouth by Iron & Wine | Songs to lie on your bed and stare at the ceiling to | lytebryte25 | 8tracks.
Muse Wiki: Supermassive wiki for the band Muse. Cute Is What We Aim For. History[edit] Early years and signing with Fueled by Ramen (2001–2005)[edit] The original members of Cute Is What We Aim For were childhood friends and formed the band in their teenage years.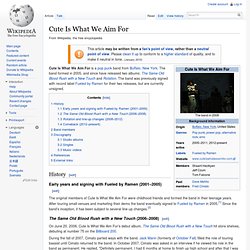 After touring small venues and marketing their demo the band eventually signed to Fueled by Ramen in 2005.[1] Since the band's inception, it has been subject to several line-up changes.[2] The Same Old Blood Rush with a New Touch (2006–2008)[edit] On June 20, 2006, Cute Is What We Aim For's debut album, The Same Old Blood Rush with a New Touch hit store shelves, debuting at number 75 on the Billboard 200. Cute Is What We Aim For : Official Website. MUSE. Muse (band) Muse are an English rock band from Teignmouth, Devon, formed in 1994.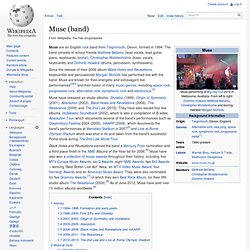 The band consists of school friends Matthew Bellamy (lead vocals, lead guitar, piano, keyboards, keytar), Christopher Wolstenholme (bass, vocals, keyboards) and Dominic Howard (drums, percussion, synthesisers). Since the release of their 2006 album Black Holes and Revelations, keyboardist and percussionist Morgan Nicholls has performed live with the band. Muse are known for their energetic and extravagant live performances[2][3] and their fusion of many music genres, including space rock, progressive rock, alternative rock, symphonic rock and electronica.[4] The members of Muse played in separate school bands during their stay at Teignmouth Community College in the early 1990s, but the formation of Muse began when Bellamy successfully auditioned for the part of guitarist in Dominic Howard's band, Carnage Mayhem.
Fat Freddy's Drop. Angus & Julia Stone. Cobra Starship #NIGHTSHADES. Bat for Lashes | 'Two Suns' The New Album Out Now. PHOENIX. Cute Is What We Aim For. System of a Down. System of a Down, also known by the acronym SOAD and often shortened to System, is an American rock band from Southern California, formed in 1994 and currently consists of four Armenian-Americans:[1] Daron Malakian (vocals, guitar), Serj Tankian (lead vocals, occasional keyboards and rhythm guitar), Shavo Odadjian (bass, background vocals) and John Dolmayan (drums).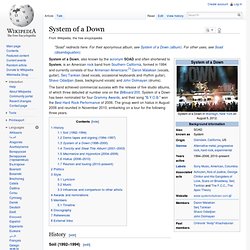 History[edit] Soil (1992–1994)[edit] Serj Tankian and Daron Malakian attended Rose and Alex Pilibos Armenian School as children, although due to their eight-year age difference they did not meet until 1992 while working on separate projects at the same recording studio.[2] They formed a band named Soil with Tankian on vocals and keyboards, Malakian on vocals and guitar, Dave Hakopyan (who later played in The Apex Theory/Mt. System Of A Down.
---