Twitter
Twitter for librarians, Twitter Search engines. General Introductions to Twitter Cheatsheet My 2 sides of A4 cheatsheet.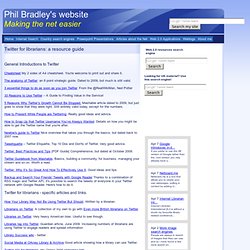 You're welcome to print out and share it. The anatomy of Twitter: an 8 point strategic guide. Dated to 2009, but much is still valid. 3 essential things to do as soon as you join Twitter. Welcome to Postpost! Twitter. Librarytechnz This is how we do it @nlnz on Twitter. Oprah's there.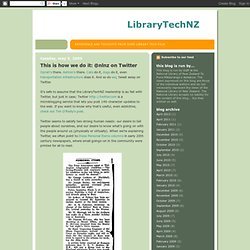 Ashton's there. Cats do it, dogs do it, even transportation infrastructure does it. And so do we; tweet away on Twitter. Twanslate (twanslate) Find the Best Twitter Apps - oneforty. 15 Easy-to-Use Apps for Adding Multimedia to Twitter Business Collaboration News. I love Twitter, but one thing I admit can be lacking from the service is that it doesn't allow for embedded images, audio or video in the Twitter stream; you can only link to them.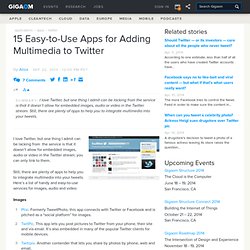 Still, there are plenty of apps to help you to integrate multimedia into your tweets. Here's a list of handy and easy-to-use services for images, audio and video: Images. WaimakaririLibraries (first_lines) Upper Hutt Library (UHLibrary) Encyclopedia of NZ (Te_Ara) Jason Darwin (NZETC) (nzetc) Phil Bradley's weblog Twitter; your first 24 hours.
I've noticed a lot of new followers on Twitter recently, and most of them are probably looking at the thing and wondering 'OK, I'm here, what do I do now?'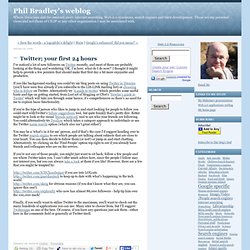 I thought it might help to provide a few pointers that should make that first day a bit more enjoyable and productive. If you like background reading you could try my blog posts on using Twitter in libraries (you'll have seen this already if you subscribe to the LIS-LINK mailing list) or choosing who to follow on Twitter. Alternatively try 'A guide to twitter' which provides some useful hints and tips on getting started, from Lost art of blogging or CNet's 'Newbie's guide to Twitter' which will take you through some basics; it's comprehensive so there's no need for me to explain basic functionality. If you're the type of person who likes to jump in and start looking for people to follow you could start withTwitter's follow suggestions tool, but quite frankly that's pretty dire. Coming to terms with Twitter (Information Wants To Be Free) I've been teaching a class on Web 2.0 since 2007, and this semester is the first time that I've actually had a full week on Twitter (well, microblogging and lifestreaming to be specific).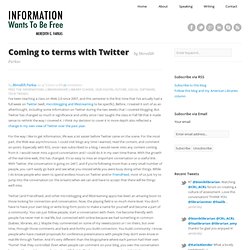 Before, I treated it sort of as an afterthought, including some information on Twitter during the two weeks that I covered blogging. But Twitter has changed so much in significance and utility since I last taught the class in Fall '08 that it made sense to rethink the way I covered it. I think my decision to cover it in more depth also reflected a change in my own view of Twitter over the past year. For the way I like to get information, life was a lot easier before Twitter came on the scene. Twitter on ALA and Some Advice. Going into ALA's Mid­win­ter Meet­ing last month, I knew Twit­ter was going to play a much more promi­nent role than it had in the past.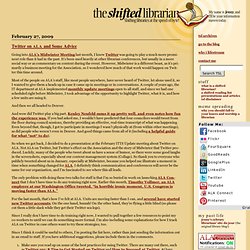 It's been used heav­ily at other librar­ian con­fer­ences, but usu­ally in a more social way or as com­men­tary on con­tent dur­ing the event. How­ever, Mid­win­ter is a dif­fer­ent beast, as it's pri­mar­ily a busi­ness meet­ing for the Asso­ci­a­tion, so I won­dered how much of that work would hap­pen on Twit­ter this time around. Most of the peo­ple on ALA's staff, like most peo­ple any­where, have never heard of Twit­ter, let alone used it, so I wanted to give them a heads up in case it came up in meet­ings or in con­ver­sa­tions. How I use Twitter, and you by Jeremiah Owyang. Twitter for Libraries (and Librarians) FEATURE Twitter for Libraries (and Librarians) by Sarah Milstein For many people, the word "twitter" brings to mind birds rather than humans.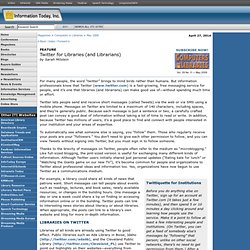 But information professionals know that Twitter (www.twitter.com) is a fast-growing, free messaging service for people, and it's one that libraries (and librarians) can make good use of—without spending much time or effort. Twitter lets people send and receive short messages (called Tweets) via the web or via SMS using a mobile phone. Messages on Twitter are limited to a maximum of 140 characters, including spaces, and they're generally public. Phil Bradley's weblog Using Twitter in libraries.
As part of an ongoing discussion on the LIS-LINK JISC mailing list I posted some ideas on using Twitter, both on an individual and library basis.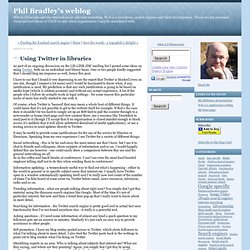 One or two people kindly suggested that I should blog my response as well, hence this post. I have to say that I found it very depressing to see the report that Twitter is blocked (even on one site, though I suspect a lot more) and I would be fascinated to know what, if any, justification is used. My prediction is that any such justification is going to be based on media hype (which is seldom accurate) and without any actual experience. A lot of the people who I follow do actually work in legal settings - for some reason this particular niche of users has really started to run with it.
Of course, when Twitter is 'banned' that may mean a whole host of different things. Rands In Repose The Art of the Tweet. In writing an article, I know I'm done when I delete.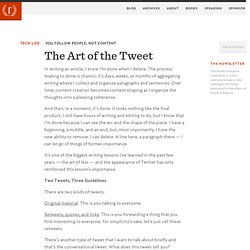 The process leading to done is chaotic; it's days, weeks, or months of aggregating writing where I collect and organize paragraphs and sentences. Over time, content creation becomes content shaping as I organize the thoughts into a pleasing coherence. And then, in a moment, it's done. It looks nothing like the final product, I still have hours of writing and editing to do, but I know that I'm done because I can see the arc and the shape of the piece. I have a beginning, a middle, and an end, but, most importantly, I have the new ability to remove. Why I Love Twitter - O'Reilly Radar. If you care what I think, you know that Twitter is just about the best way to learn what I'm paying attention to.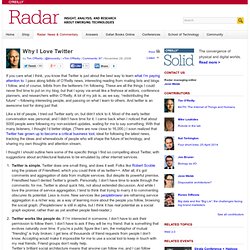 I pass along tidbits of O'Reilly news, interesting reading from mailing lists and blogs I follow, and of course, tidbits from the twitterers I'm following. These are all the things I could never find time to put on my blog, but that I spray via email like a firehose at editors, conference planners, and researchers within O'Reilly. A lot of my job is, as we say, "redistributing the future" – following interesting people, and passing on what I learn to others. And twitter is an awesome tool for doing just that. Like a lot of people, I tried out Twitter early on, but didn't stick to it. 6 part series - Topic 2 - Twitter. You can read topic 1 on LinkedIn here. Twitter is a service for friends, family, and co–workers to communicate and stay connected through the exchange of quick, frequent answers to one simple question: what are you doing ?
Source – Twitter.com – Please feel free to follow me. Rands In Repose A Twitter Decision. In starting a significant project, an engineer knows the first three big design decisions you make are vastly more important than the second three. The nature of these decisions varies from project to project. They may be choices about look and feel, rules about architecture, or trade offs regarding feature set. Whatever these decisions are, they set a tone that defines the success of the project.
When I look at Twitter, I see three early essential decisions about how Twitter allows you to craft a community. I believe much of Twitter's continued success is due to definition and execution of these decisions. Sanity check 10 tools that will make you a Twitter power user Tech Sanity Check TechRepublic.com. Twitter.
---