Reading-sites
Our First New Zealand Legacy Library! Comparing LT and Other Book Sites Talk about LibraryThing LibraryThing. This topic is currently marked as "dormant"—the last message is more than 90 days old.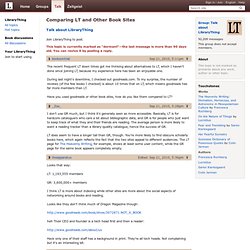 You can revive it by posting a reply. 1booksontrial Sep 21, 2010, 5:11pm The recent frequent LT down times got me thinking about alternatives to LT, which I haven't done since joining LT, because my experience here has been an enjoyable one. During last night's downtime, I checked out goodreads.com. LibraryThing Search - WikiThing. <<back to Help and Frequently Asked Questions This is a Help or FAQ page Please answer LibraryThing related questions here (and on the other Help and FAQ pages).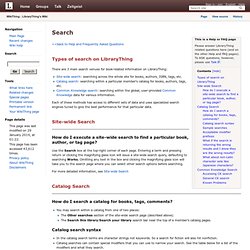 To ASK questions, however, please use Talk. Types of search on LibraryThing. Librarything versus Goodreads Book cataloging services comparison. There are two great websites to post your book library and reviews, librarything.com and goodreads.com.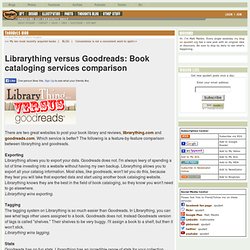 Which service is better? The following is a feature-by-feature comparison between librarything and goodreads. Exporting Librarything allows you to export your data. Goodreads vs. Librarything vs. Shelfari. When it comes to social networking sites, book lovers have it made.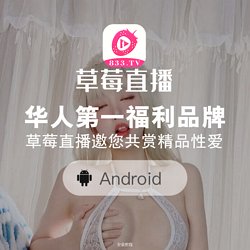 There are several popular websites that allow readers to catalog their books, share reviews, and connect with like-minded bookworms. But with choice comes decision and selecting the best site for you can take a bit of research and experimentation. Good Reads. BookLoversWiki - Princeton Public Library. Open Library. Our First New Zealand Legacy Library. Our First New Zealand Legacy Library!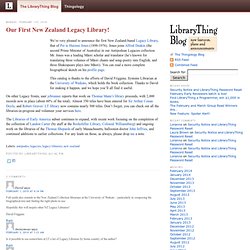 We're very pleased to announce the first New Zealand-based Legacy Library, that of Pei te Hurinui Jones (1898-1976). Jones joins Alfred Deakin (the second Prime Minister of Australia) in our Antipodean Legacies collection. LibraryThing Catalog your books online. For Libraries. Groups I See Dead People's Books. A group for those interested and involved in entering the personal libraries of famous readers into LibraryThing as Legacy Libraries.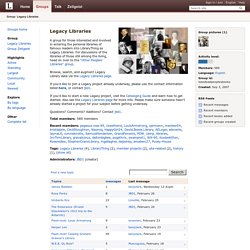 For discussions of the libraries of those still among the living, head on over to the "Other Peoples' Libraries" group. Browse, search, and augment Legacy Library data via the Legacy Libraries page. If you'd like to join a Legacy project already underway, please use the contact information listed here, or contact jbd1. If you'd like to start a new Legacy project, visit the Cataloging Guide and learn how to get started. Thingology (LibraryThing's ideas blog) Summary: Tim, LibraryThing's founder, is going to be giving a one-day, almost-free introduction to PHP programming on Friday, June 27, alongside the preconference day of ALA 2014 in Las Vegas, NV.
"Enough PHP to Be Dangerous" will cover the basics of PHP, the most common web programming language. It's designed for people with little programming experience.(1) Instruction will be project-based–a series of brief explanations followed by hands-on problem solving.
---