MAPPE
MAPSTORY
CHRONOZOOM. Tutorial in italiano di Pearltrees. Teaching with Timeline. XMIND. WikiMindMap. SpiderScribe. Popplet | Collect, curate and share your ideas, inspirations, and projects! Mindomo. Mind42.com - Collaborative mind mapping in your browser. Mind42- risorse on line. MYMAP. Bubbl.us | brainstorm and mind map online. Mappa risorse. Create Free Interactive Timelines – Stories Displayed on Maps | myHistro.
Risorse varie. Math mind map. ConnectedMind. GRAPHOLITE. Freeplane | Free software downloads. MAPSKIP. MapSkip makes the world a canvas for our stories and photos.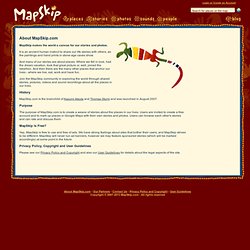 It is an ancient human instinct to share our life stories with others, as the paintings and hand prints in stone-age caves show. And many of our stories are about places. Where we fell in love, had the dream vacation, took that great picture or, well, joined the rebellion. And then there are the many other places that anchor our lives - where we live, eat, work and have fun.
---