LISTENING
Listening to English. Teaching listening – example lesson world cup. This post was inspired by a listening lesson I did twice with two different elementary level 1-1 students last week.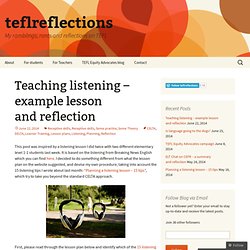 It is based on the listening from Breaking News English which you can find here. I decided to do something different from what the lesson plan on the website suggested, and devise my own procedure, taking into account the 15 listening tips I wrote about last month: "Planning a listening lesson – 15 tips", which try to take you beyond the standard CELTA approach. First, please read through the lesson plan below and identify which of the 15 listening tips I used when designing the lesson procedure.
Afterwards, you can check with my comments and reflections below the lesson plan. Lesson procedure. Intermediate Listening | You've Changed! Two friends meet after not seeing each other for a long time.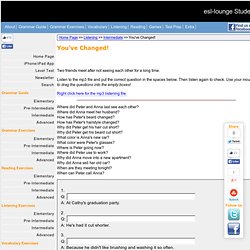 Listen to the mp3 file and put the correct question in the spaces below. Then listen again to check. Use your mouse to drag the questions into the empty boxes! Easy Reading for ESL Beginners. Focus on English: ESL Conversation Online. Listen to English and learn English with podcasts in English. Listen to English - learn English! - The podcast website for people learning English. This is one of the school meals which Martha Payne photographed for her blog.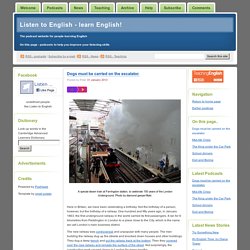 She had carrot soup, pasta with meat and vegetables and more carrot, and yoghurt. Today we visit Scotland, to find out what a Scottish schoolgirl thinks of her school meals. And because the European Cup Football matches have reached an interesting stage, and poor old England have been knocked out by Italy, this might be a good time to learn a new football expression. Martha Payne is 9 years old. She lives in a small community in Scotland called Lochgilphead. A listening companion. Voice of America - +++ All Ears English Podcast | Learn Advanced English. Listenings. Radio on the net. Listen to recordings of advanced English students. PodOmatic | Podcast - Luke's ENGLISH Podcast.
SACRED - Sacred Stories. Videos - Speaking English Podcast. Listen to English - learn English! - The podcast website for people learning English. Learning English - Home. iPlayer Radio. Voice of America - Learn English with Special English Lessons - VOA Learning English - VOA - Voice of America English News. Yes, you can learn English. - Simple English News. Clilstore - Teaching units for content and language integrated learning. Teaching unitsfor Content and Language Integrated Learning HelpAbout Select the language you are learning and your level to see the available units.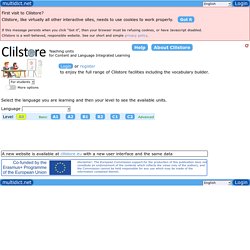 Level AnyBasicA1A2B1B2C1C2Advanced. Voscreen. v0.1. Yvan BAPTISTE - www.franglish.fr. Kiddie Records Weekly. Storynory, Free Audio Stories for Kids. Speech Accent Archive. English Listening Online.
---