Graphique/photo
CollageIt screenshot and download at SnapFiles
Shape Collage screenshot and download at SnapFiles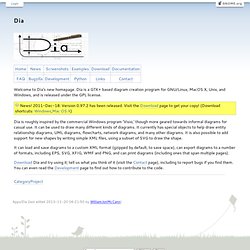 Welcome to Dia's new homepage. Dia is a GTK+ based diagram creation program for GNU/Linux, MacOS X, Unix, and Windows, and is released under the GPL license. Dia is roughly inspired by the commercial Windows program 'Visio,' though more geared towards informal diagrams for casual use. It can be used to draw many different kinds of diagrams.
Can the free version be used in commercial environment (work, office)? Yes, but please note, the free version 2.1 was last updated in 2005. It was mainly developed for XP.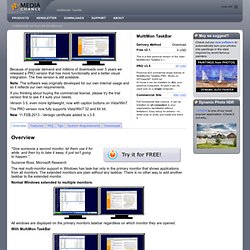 FastStone Image Viewer is a fast, stable, user-friendly image browser, converter and editor. It has a nice array of features that include image viewing, management, comparison, red-eye removal, emailing, resizing, cropping, retouching and color adjustments. Its innovative but intuitive full-screen mode provides quick access to EXIF information, thumbnail browser and major functionalities via hidden toolbars that pop up when your mouse touches the four edges of the screen. Other features include a high quality magnifier and a musical slideshow with 150+ transitional effects, as well as lossless JPEG transitions, drop shadow effects, image annotation, scanner support, histogram and much more.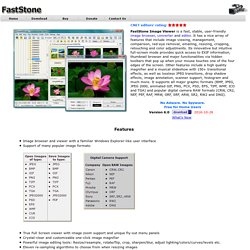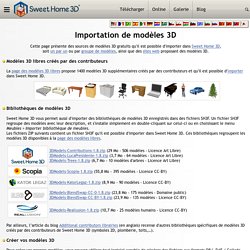 Cette page présente des sources de modèles 3D gratuits qu'il est possible d'importer dans Sweet Home 3D, soit un par un ou par groupe de modèles, ansi que des sites web proposant des modèles 3D. Modèles 3D libres créés par des contributeurs La page des modèles 3D libres propose plus de 800 modèles 3D supplémentaires créés par des contributeurs et qu'il est possible d'importer dans Sweet Home 3D. Bibliothèques de modèles 3D Sweet Home 3D vous permet aussi d'importer des bibliothèques de modèles 3D enregistrés dans des fichiers SH3F. Une fichier SH3F regroupe des modèles avec leur description, et s'installe simplement en double-cliquant sur celui-ci ou en choisissant le menu Meubles > Importer bibliothèque de meubles.
Importation de modèles 3D