Developpement
NetBeans Bienvenue chez NetBeans!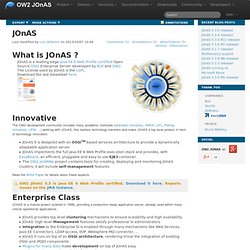 JOnAS OpenSource Java EE Application Server - Main - WebHome
The OW2 development community includes many academic institutes (Grenoble University, INRIA, LIFL, Peking University, UPM, ...) working with JOnAS; this fastens technology transfers and make JOnAS a top level product in term of technology innovation. JOnAS 5 is designed with an OSGiTM based services architecture to provide a dynamically adaptable application serverJOnAS implements the full Java EE 6 Web Profile execution stack and provides, with EasyBeans, an efficient, pluggable and easy to use EJB3 containerThe OW2 JASMINe project contains tools for creating, deploying and monitoring JOnAS clusters; it will include self-management features Read the White Paper for details about these aspects.