Agile
Association pour la promotion des méthodes agiles de développement logiciel : Club Agile Rhône-Alpes
L'informatique conviviale
Scrum Guide 2011, la version française non-officielle
Centre de Formations Agiles
Ce livre fait partie de la collection de livres InfoQ "Enterprise Software Development". Avec ce livre, vous apprendrez ce qu'est Kanban, ses forces et ses limites, et quand l'utiliser. Vous apprendrez également comment Kanban peut améliorer Scrum, ou tout autre outil que vous utilisez, et à quel moment c'est possible.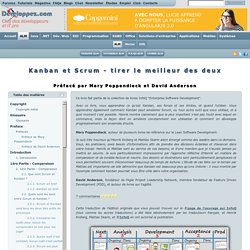 Kanban et Scrum - tirer le meilleur des deux
Association pour la promotion des méthodes agiles de développement logiciel : Club Agile Rhône-Alpes
Présentations du Scrum Day 2011 - French Scrum User Group - French Scrum User Group
Ce livre fait partie de la collection de livres InfoQ "Enterprise Software Development". L'apport du livre d'Henrik est que, si vous suivez les pratiques décrites, vous aurez un Directeur de produit, des estimations pour votre Backlog de produit, une Courbe du reste à faire, et vous connaîtrez la vélocité de votre équipe ainsi que de nombreuses autres pratiques essentielles pour un Scrum dangereusement opérationnel. Vous passerez le test Nokia pour Scrum et serez digne de l'investissement dans votre travail. Si vous êtes une startup, vous pouvez même bénéficier du financement d'une société capital-risque.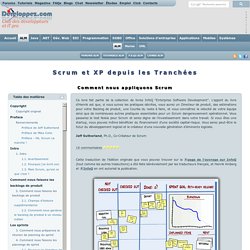 Scrum et XP depuis les Tranchées
Contrat-Agile.org
Agile Retrospectives: Making Good Teams Great!
The role of leadership in software development
Bay XP Meeting Part 2: Agile Estimation, Mike Cohn
Bay XP Meeting Part 1: Agile Estimation, Mike Cohn
Self-Organization: The Secret Sauce for Improving your Scrum team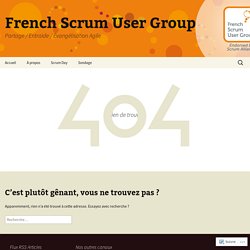 Le French Scrum User Group est un groupe d'utilisateurs de Scrum en France, où vous pouvez venir échanger sur Scrum et les méthodes agiles, et partager vos expériences sur vos projets. Ce groupe est parrainé par Jeff Sutherland , l'un des pères fondateurs de Scrum, et par la Scrum Alliance I would like to welcome everyone to the French Scrum User Group. My hope is that meetings of small groups using Scrum to share experiences will help teams become more successful.
frenchsug : French Scrum User Group
Le graphique de vélocité
Mesurer sa vélocité c'est une pratique agile recommandée. C'est d'ailleurs une des demandes du test Nokia, une équipe doit connaître sa vélocité pour être considérée comme appliquant vraiment Scrum. En plus du burndown chart, cela permet d'afficher un beau graphique qui montre l'évolution de la vélocité mesurée à chaque fin de sprint : Si les éléments du backlog sont typés, par exemple en user story, technical story ou défaut, le graphique de vélocité enrichi permet de voir la contribution de chaque type d'élément à la vélocité : Ce graphique permet de connaître, en plus de l'évolution de vélocité (voire de son accélération), la proportion de vélocité qui apporte directement de la valeur par rapport à celle qui contribue à rembourser la dette.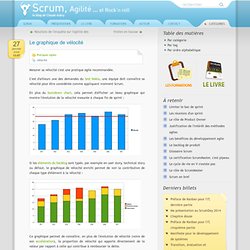 Qu'est ce que la vélocité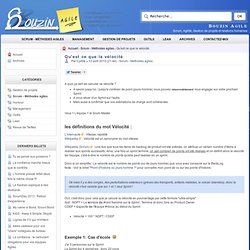 A quoi ça sert de calculer sa vélocité ? A savoir jusqu'où / jusqu'à combien de point (jours-homme) vous pouvez raisonnablement vous engager sur votre prochain SprintA vous situer d'un Sprint sur l'autreMais aussi à confirmer que vos estimations de charge sont cohérentes. Vous = L'équipe + le Scum Master
Transition agile & Accompagnement au changement avec Romain Couturier
Les 26 & 27 mai 2011 était organisée la 6ème édition d'Agile France à Paris. Même si le temps était un peu frisquet, la Porte Jaune dans le Bois de Vincennes est un lieu somptueux et parfaitement adapté aux rencontres. Au programme cette année, 6 tracks pleines d'agilité pendant 2 jours. Le choix des sessions étaient donc difficiles (comme d'habitude). Pour tous les absents (de la conférence ou des sessions), voici quelques extraits :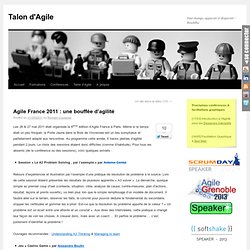 Agile France 2011 : une bouffée d'agilité | Talon d'Agile
Mes évènements de rentrée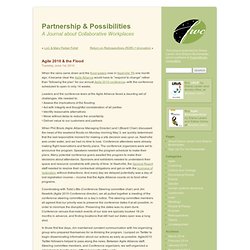 When the rains came down and the flood waters rose in Nashville TN one month ago, it became clear the Agile Alliance would have to "respond to change" rather than "following the plan" for our annual Agile 2010 conference–with the conference scheduled to open in only 14 weeks. Leaders and the conference team at the Agile Alliance faced a daunting set of challenges. We needed to: • Assess the implications of the flooding • Act with integrity and thoughtful consideration of all parties • Identify reasonable alternatives • Move without delay to reduce the uncertainty • Deliver value to our customers and partners When Phil Brock (Agile Alliance Managing Director) and I (Board Chair) discussed the news of the weekend floods on Monday morning May 3, we quickly determined that the last responsible moment for making a site decision was upon us. Nashville was under water, and we had no time to lose.
Partnership & Possibilities » Blog Archive » Agile 2010 & the Flood
We know it sounds weird, at first: Playing games to do work. But traditional thinking is just plain wrong. Research shows that human beings have been hard-wired to express themselves and interact with each other through play. Engaging your customers, employees and stakeholders through Innovation Games delivers deeper, more actionable insight than is available through those stodgy brainstorming sessions, online surveys, focus groups or other tools. Understand your customers needsDeliver the right featuresMake better strategy decisionsIncrease empathy for your customers' experienceImprove the effectiveness of sales and servicesIdentify the most effective marketing messages and sellable featuresUncover breakthrough opportunitiesAnd have serious fun doing serious work!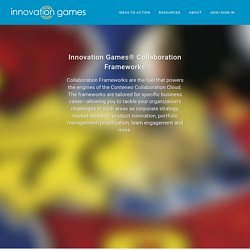 Using Speed Boat for Process Improvement
A lot of organizations are using Speed Boat for process improvement. That's a smart approach, as I'll explain later. However, if you're not yet using Speed Boat for process improvement, this post should give you the motivation get started.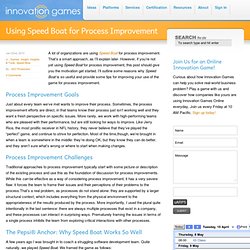 What is Scrum
Scrum is an iterative and incremental process for product development and the organization of teams. Tasks will be achieved faster and with higher quality with the aid of the Scrum-Framework. This is possible because of the high self-motivation of the team, which chooses itself how the tasks will be executed. The customer demands will be iterative prioritized and quickly realized. Scrum in a Nutshell Scrum describes three different management roles that make up the Scrum team: Product Owner, Scrum Master and the Development team.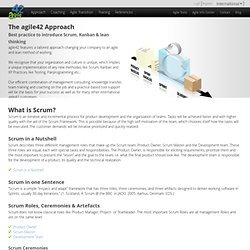 Agile Planning | Mike Cohn's Blog - Succeeding With Agile®
En cette période de fin d'année, il est temps de revoir ce qui a bien été. Comme vous le savez, je travaille à promouvoir les méthodologies par Vents et marées. Donc, j'ai choisi de faire ma revue en traitant de cette méthodologie. En janvier dernier, lors de mes veux pour le nouvel an, j'avais émis le souhait suivant : "Mes petites résolutions Agiles pour l'an 2010". Je souhaitais que les méthodologies Agiles prennent un virage important.
Scrum « Génération Agile
Plan d'action: les 4 étapes clés « Gestion de Projets 2.0
Kanban pour gérer ma ToDo List | Mind Mapping, Agilité et Gestion de projet
Jouer avec les clients pour innover #3
KanbanAndScrum-French.pdf (Objet application/pdf)
agile_support_with_kanban_french.pdf (Objet application/pdf)
Gestion de projet agile: Amazon.fr: Véronique Messager Rota, Jean Tabaka
Cet ouvrage rassemble plus de douze années d'expérience en gestion de projet informatique, et compare les méthodologies traditionnelles - qui définissent à l'avance les besoins et organisent les activités à réaliser, leur séquencement, les rôles et les livrables à produire - aux méthodes agiles. Ces dernières prennent le contre-pied des méthodes prédictives en évitant une définition trop précoce et figée des besoins ; elles ont montré une surprenante efficacité en pariant sur la souplesse des équipes. Un repère pour le chef de projet informatique La nouvelle édition augmentée et mise à jour de ce guide aidera les chefs de projet, déjà familiarisés avec les méthodes traditionnelles de conduite de projet et attirés par les méthodes dites "agiles" ou débutant dans le métier, à évaluer et améliorer leurs compétences en gestion de projet et leurs capacités à manager une équipe agile.
SCRUM : Le guide pratique de la méthode agile la plus populaire: Amazon.fr: Claude Aubry
Agile Project Management Software
Au démarrage d'un nouveau projet, il est toujours bon de se rappeler les dépendances des différents concepts et l'ordre dans lequel il faut les appréhender. Pour cela, voici le schéma que j'ai en tête : Que signifie cette roue ? Tout part du besoin exprimé. Avec Scrum, il se formalise dans le Product Backlog.Ces besoins seront « valorisés » par le Product Owner.
Ca Scrum ! » Blog Archive » Scrum : Dépendance des concepts
Agility means being able to quickly change direction Agile Engineering is a methodology that promotes iterations. open collaboration and adaptability throughout the lifecycle of the project A Gymnasium for the Programmers Mind Programmers have traditionally got a kick out of writing programs that are fast, have a small footprint, and don't crash. Writing programs that lesser mortals could easily change, just was not were it was at. Agility has changed all that, it has introduced a value system and supporting techniques that allow programmers get a kick out of writing maintainable code, code that allows you to "Embrace Change", its now cool and fun to be just plain nice.
Agile Space
Agile Modeling with Mind Map and UML « .:: Peta Konsep Anak Bangsa ::.
By: Kenji Hiranabe Summary: Requirements gathering–or in an agile context, gathering user stories–is always a challenging phase in software development. There are no standard processes or notations defined, only the understanding that the primary factors that make this phase effective are communication and facilitation skills. In this article, Kenji Hiranabe proposes using mind maps that focus on those primary factors when exploring user wishes. Then he takes this concept one step further and models the results with UML. What Is a Mind Map?
Agile Mind Maps: BDD, Continuous Integration, Design
Mind Maps: Scrum, Extreme Programming, Lean