Health
Finally, a smoking gun connecting livestock antibiotics and superbugs. How does the livestock industry talk about antibiotics?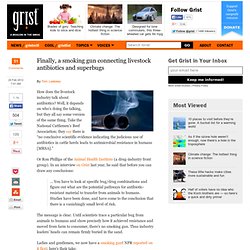 Well, it depends on who's doing the talking, but they all say some version of the same thing. Take the National Cattlemen's Beef Association; they say there is "no conclusive scientific evidence indicating the judicious use of antibiotics in cattle herds leads to antimicrobial resistance in humans [MRSA]." Or Ron Phillips of the Animal Health Institute (a drug-industry front group). In an interview on Grist last year, he said that before you can draw any conclusions: For Grace | How You Can Support CA Pain Bill AB 369 Sponsored by For Grace.
***AB 369 - October 1st, 2012*** Contact: John Garrett (818) 760-7635jgarrett@forgrace.org For Grace-Sponsored Legislation Would Have Limited Practice of Step Therapy; Ensured that Millions of Californians with Chronic Pain Could Access Critical Treatments LOS ANGELES (October 1, 2012) – For Grace, a Los Angeles-based non-profit organization dedicated to ensuring the ethical and equal treatment of all women in pain, today expressed its profound disappointment that California Governor Jerry Brown vetoed AB 369, a landmark health bill that would have provided relief to millions of California chronic pain sufferers.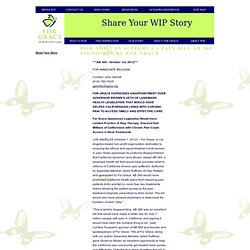 Authored by Assembly Member Jared Huffman (D-San Rafael) and sponsored by For Grace, AB 369 would have prohibited California health plans from requiring pain patients to try and fail on more than two treatments before allowing the patient access to the pain treatment originally prescribed by their doctor. State bill brings pain sufferers faster relief. The old adage "if at first you don't succeed, try, try again" doesn't sit well with pain patients who are often forced to try several different drugs before their health insurer covers the treatment recommended by their doctor.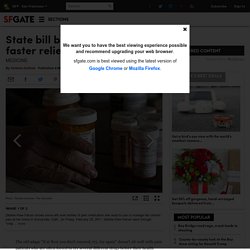 A bill proposed by a Marin County lawmaker would limit that practice - known as "step therapy" or "fail first" - to two unsuccessful attempts. After the second failure, insurers would be required to pay for what the doctor prescribed. "Step therapy is used for lots of things, but the point of focusing on chronic pain sufferers is that truly this is an area where a person's physician ought to be able to call the shots on how to relieve this patient of pain," said Assemblyman Jared Huffman, D-San Rafael, author of the bill, which was introduced earlier this month.
The bill has the support of many pain sufferers, such as Debbie Klee-Yokum of Sunnyvale. Klee-Yokum has been trying for 12 years to manage chronic pain that was triggered by surgery. Mom's Clean Air Force Twitter Party RSVP. What Doctors Don't Know About Pain. USDA moves to let Monsanto perform its own environmental impact studies on GMOs. TSA Admits Bungling of Airport Body-Scanner Radiation Tests | Threat Level. The Transportation Security Administration is re-analyzing the radiation levels of X-ray body scanners installed in airports nationwide, after testing produced dramatically higher-than-expected results.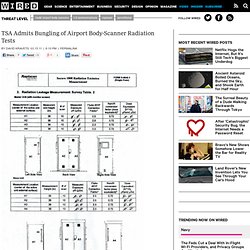 The TSA, which has deployed at least 500 body scanners to at least 78 airports, said Tuesday the machines meet all safety standards and would remain in operation despite a "calculation error" in safety studies. The flawed results showed radiation levels 10 times higher than expected. At least one flier group, the Association for Airline Passenger Rights, is urging the government to stop using the $180,000 machines that produce a virtual-nude image of the body until new tests are concluded in May.
Health | Data.gov Communities. SMArt Prize for Patients, Physicians, and Researchers. Posted by Aneesh Chopra on March 10, 2011 at 03:02 PM EDT This week a research team at Children's Hospital of Boston and Harvard Medical School launched a prize to encourage innovative app developers to build new products and services that benefit patients and providers.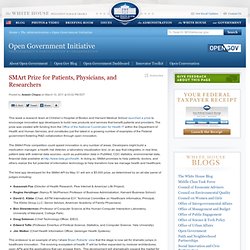 The prize was created with funding from the Office of the National Coordinator for Health IT within the Department of Health and Human Services, and constitutes just the latest in a growing number of examples of the Federal government fostering R&D collaboration through open innovation. The SMArt Prize competition could speed innovation in any number of areas. Developers might build a medication manager, a health risk detector, a laboratory visualization tool, or an app that integrates, in real time, patient data with external data sources—such as publication data in PubMed, CDC statistics, environmental data, financial data available at. Stages of grieving online : Sarah Granger : City Brights. On Christmas Day a few years back, I was trolling Facebook, tired, stuffed, looking for some amusing posts from friends, and I saw the terrible news: one of my grade school classmates lost her husband on Christmas Eve.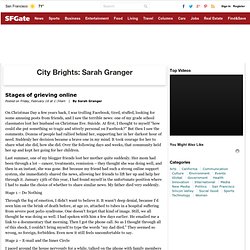 Suicide. At first, I thought to myself "how could she put something so tragic and utterly personal on Facebook?" Report from Massachusetts Health IT forum. To talk of a "revolution" in health care would be demeaning to the thousands of people staking their lives on real revolutions right now in various countries, but there is no doubt that the conflation of out-of-control health care costs, fancy new technologies, and various government mandates (not only from the US government, but from many states including Massachusetts) have forced doctors, vendors, and other people in the heath care field to scramble and order changes throughout their organizations.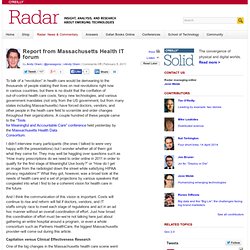 A couple hundred of these people came to the "Tools for Meaningful and Accountable Care" conference held yesterday by the Massachusetts Health Data Consortium. I didn't interview many participants (the ones I talked to were very happy with the presentations) but I wonder whether all of them got what they came for. They may well be haggling over questions such as "How many prescriptions do we need to order online in 2011 in order to qualify for the first stage of Meaningful Use booty?" 'No fish left behind' approach leaves Earth with nowhere left to fish, study finds. Earth has run out of room to expand fisheries, according to a new study led by University of British Columbia researchers that charts the systematic expansion of industrialized fisheries.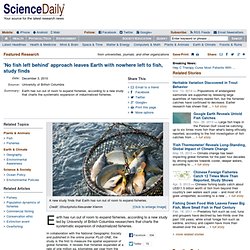 In collaboration with the National Geographic Society and published in the online journal PLoS ONE, the study is the first to measure the spatial expansion of global fisheries. It reveals that fisheries expanded at a rate of one million sq. kilometres per year from the 1950s to the end of the 1970s. The rate of expansion more than tripled in the 1980s and early 1990s -- to roughly the size of Brazil's Amazon rain forest every year.
Between 1950 and 2005, the spatial expansion of fisheries started from the coastal waters off the North Atlantic and Northwest Pacific, reached into the high seas and southward into the Southern Hemisphere at a rate of almost one degree latitude per year. Presidential Order Balances Security and Scientific Enterprise | Posted by Peter Emanuel on July 02, 2010 at 04:25 PM EDT Today the President signed an Executive Order that, when implemented by the relevant Departments and agencies, will help the United States achieve a crucial balance between two goals that are sometimes seen as being in conflict: Increasing the Nation's defenses against the threat of biological weapons and reducing the hurdles that legitimate scientists face as they pursue research on potentially dangerous microbes.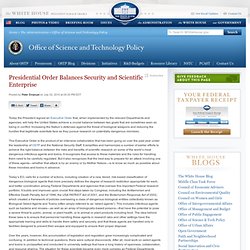 This Executive Order is the product of an intensive collaboration that has been going on over the past year under the leadership of OSTP and the National Security Staff. The Health 2.0 Dev Challenge.
---