Patrons of Soldiers
Many of the great saints of the Church have served in the military of their day. These saints have a tradition of patronage of those who serve today. Feb 17
Saint Theodore Stratelates
Also known as Theodore the GeneralTheodore TyroTheodore the RecruitTheodore TiroTheodor Tiro of EuchaïtaTheodore of AmaseaTheodore TeronTheodorus of Heraclea Memorial 7 February as Theodore Stratelates16 February as Theodore Tyro17 February Orthodox Calendar27 July on Korcula, Greece9 November as Theodor Tiro of Euchaïta Profile Roman general (stratelates) and covert Christian during a time of persecution.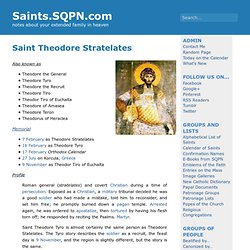 Also known as Stanislaus Szczepanowsky Memorial Profile Born to the Polish nobility, son of Belislaus and Bogna, and raised in a pious family.
Saint Stanislaus of Cracow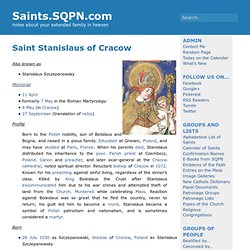 Saint Sebastian
Son of a wealthy Roman family. Educated in Milan. Officer of the Imperial Roman army, and captain of the guard. Favorite of Diocletian. During Diocletian's persecution of the Christians, Sebastian visited them in prison, bringing supplies and comfort.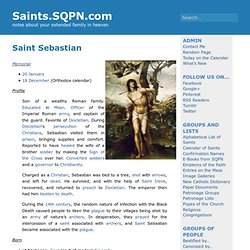 Saint Nicholas of Myra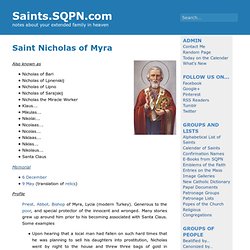 Also known as Nicholas of BariNicholas of LpnenskijNicholas of LipnoNicholas of SarajskijNicholas the Miracle WorkerKlaus….Mikulas….Nikolai….Nicolaas….Nicolas….Niklaas….Niklas….Nikolaus….Santa Claus Memorial Profile
Michael the Archangel
Memorial Profile Archangel. Leader of the army of God during the Lucifer uprising. Devotion is common to Muslims, Christians and Jews, and there are writings about him in all three cultures.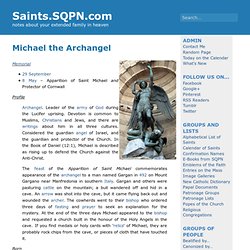 Also known as MauritiusMoritzMorris Memorial 22 September Profile Layman.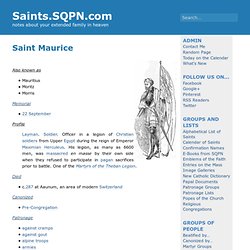 Saint Maurice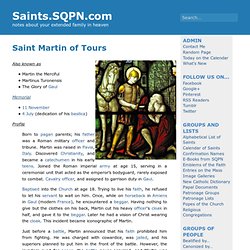 Saint Martin of Tours
Born to pagan parents; his father was a Roman military officer and tribune. Martin was raised in Pavia, Italy. Discovered Christianity, and became a catechumen in his early teens. Joined the Roman imperial army at age 15, serving in a ceremonial unit that acted as the emperor's bodyguard, rarely exposed to combat. Cavalry officer, and assigned to garrison duty in Gaul.Baptised into the Church at age 18.
Saint Louis IX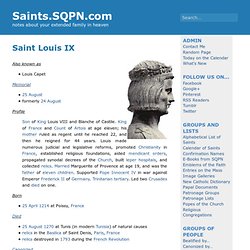 Also known as Louis Capet Memorial Profile
Saint Joan of Arc
Also known as IagoJacobus de OudereJacobus MajorJakobus der ÄltereJames MajorJames the ElderJames the MoreJames the son of ZebedeeJames, son of ZebedeeSantiagoSantiago de EspañaSon of Thunder Memorial 25 Julyformerly 5 August30 December (translation of relics; Mozarabic rite)3 January (translation of relics to the monastery of Saint Vaast)30 April (Orthodox)29 December (Armenian)12 April (Coptic)27 December (Syrian Orthodox) Profile Son of Zebedee and Salome, brother of Saint John the Apostle, and may have been Jesus' cousin.
Saint James the Greater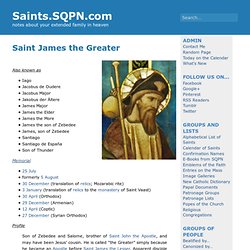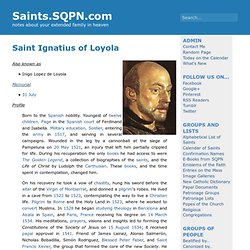 Also known as Inigo Lopez de Loyola Memorial 31 July Profile Born to the Spanish nobility.
Saint Ignatius of Loyola
Saint George
Also known as Victory BringerZorzo Memorial 23 April (Roman Catholic)3 November (Russian Orthodox)fourth Sunday in June (Malta)third Sunday in July (Gozo)23 November (Geogia) Profile
Saint Faith
Saint Adrian of Nicomedia
Also known as Hadrian of Nicomedia Memorial
Also known as Acacius of ConstantinopleAcato of AvilaAcathiusAchatius of ByzantiumAgathius of ByzantiumAgathus of ByzantiumAgazio (in Calabria)Cuenca (in Spain) Memorial 7 Mayformerly 8 May16 January (translation of relics)17 April (Orthodox calendar) Profile
Saint Acacius of Byzantium