Anime
Chartfag's Den of Lesbian Enterprise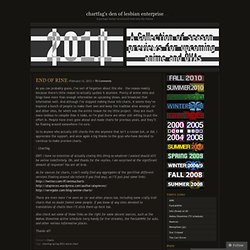 •February 12, 2012 • 70 Comments As you can probably guess, i've sort of forgotten about this site – the reason mainly because there's little reason to actually update it anymore. Plenty of anime sites and blogs have more than enough information on upcoming shows, and broadcast that information well. And although i've stopped making these info charts, it seems they've inspired a bunch of people to make their own and keep the tradition alive amongst /a/ and other sites, for which was the entire reason for my little project – they are much more tedious to compile than it looks, so i'm glad there are other still willing to put the effort in.
Tirkx 6.0 - Direct Anime Download
Sankaku Complex - Anime, manga and games, observed from Japan
Author: Rift Categories: Anime, NewsDate: Jan 14, 2014 19:40 JSTTags: Animals, Fetish, Image Gallery, Studio Arms, Wizard Barristers Magical anime Wizard Barristers: Benmashi Cecil has made quite the first impression with its frequent and highly intense fighting sequences – as well as some rather unique groping amphibian groping action, hopping into the lead as far as the season's late night action stakes are concerned. Read the rest of this entry » Author: Bitfrost Categories: Anime, NewsDate: Jan 14, 2014 09:33 JSTTags: Image Gallery, Maids, Music, Oppai, Sonico the Animation, Soniko Super Sonico The Animation is back with a new OP and ED theme, with viewers getting to know Sonico's fellow buxom band-mates in what has rather generously been compared to a latter-day K-ON!