Games
RPTools - Home. Ludum Dare. Ludum Dare 29 Theme Slaughter!!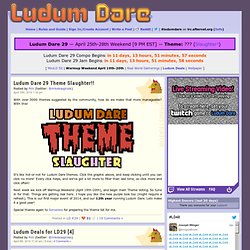 April 10th, 2014 1:16 pm With over 3000 themes suggested by the community, how do we make that more manageable? With this! Waltorious Writes About Games | Game-related ramblings.
Music
Roguelike. SpaceSimCentral | Your space and scifi gaming community. Actively Developing Roguelikes. UnReal World RPG - Survival based roguelike game. Rec.games.roguelike.misc. Main Page. Browser. Linux. Go.
---