Mail tracking
Top 5 Free Disposable Email Address Services. EmailEmail Trying new things on the internet often requires you to provide a legitimate email address for registration verification, which can result in receiving increasing amounts of spam email over time.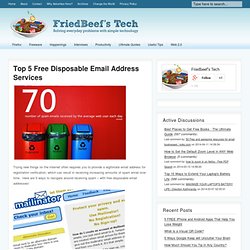 Here are 5 ways to navigate around receiving spam – with free disposable email addresses! 1. Mailinator: The 48 hour disposable email address. Verify Fake or Invalid Email Addresses. Fake email addresses can be some time used for stilling your confidential data.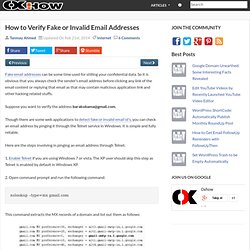 So it is obvious that you always check the sender's email address before clicking any link of the email content or replying that email as that may contain malicious application link and other hacking related stuffs. Suppose you want to verify the address barakobama@gmail.com. Though there are some web applications to detect fake or invalid email id's, you can check an email address by pinging it through the Telnet service in Windows. It is simple and fully reliable. Here are the steps involving in pinging an email address through Telnet.
Reverse Email Search | Email Address Lookup | Spokeo. Webmail.me. Screenshots of Atomic Email Hunter, an email extracting software to harvest e-mail addresses from the Internet. Log In | Pointofmail.com | Email Tracking, Control and Security. Read Receipts and History. Email Recall and Self-Destruction. SpyPig - Free Email Tracking System - Find out if your email has been read!
---