E-commerce
Mark Edward Compos, étudiant en architecture au California College of the Arts à San Francisco, présente un projet atypique : New York Mapping. Il s'intéresse aux activités qui rythment la journée d'une zone de New York. Il les a synthétisées dans un graphique, mais surtout une vidéo plutôt fascinante, dans laquelle il a inclus les sons d'ambiance capturés dans les différents endroits visités.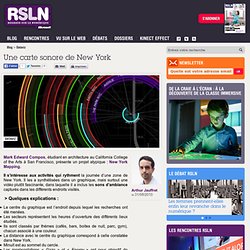 REGARDS SUR LE NUMERIQUE : Panorama - Une carte sonore de New York. RSLNmag est édité par Microsoft et se consacre à l'analyse et au décryptage du monde numérique.
E-Merchandising.net : optimisez votre merchandising pour amélior
Miss Conversion - Bons plans, coups de coeur, tendances et nouve
Mode De Livraison E-commerce : Coût, Transporteur, Point Relais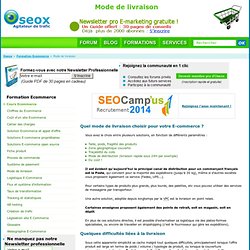 Quel mode de livraison choisir pour votre E-commerce ?
Exemples Landing Page, Landing Page Google, découvrez nos landin
Guide Et Bibliographie Ecommerce : Webographie Et Livre E-Commer
Ce tutoriel se base sur de nombreuses sources à la fois françaises et étrangères. N'hésitez pas à visiter ces sites et à creuser chaque article. Dans un soucis de concision, ce tutoriel e-commerce n'a pas pour objectif d'approfondir chaque point ou concept évoqué.