Cooking / Recipes
Chicken With Wild Rice And Asparagus Or Broccoli. 1 c. wild rice 2 c. chicken broth 2 (4 oz.) cans mushrooms (with juice) 6 chicken breast, halves 1 1/2 lbs. fresh asparagus spears (or broccoli) Salt and pepper Paprika Soak wild rice overnight in cold water, or pour boiling water over rice and let stand 30 minutes.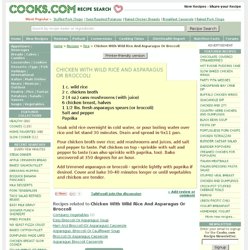 Drain and spread in 9x11 pan. Pour chicken broth over rice; add mushrooms and juices, add salt and pepper to taste. Put chicken on top - sprinkle with salt and pepper to taste (can also sprinkle with paprika, too). Chicken - Broccoli - Asparagus Casserole. 8 chicken breasts 1 (10 oz.) pkg. frozen broccoli, thawed 1 (10 oz.) pkg. frozen asparagus, thawed 1 can cream of chicken soup 1 can mushroom soup 1 stalk celery, chopped Lemon juice (optional) Curry powder (optional) Shredded Cheddar cheese Buttered bread crumbs Cook chicken in salted water.
Cover in saucepan until tender. Drain and chop. Layer chicken, broccoli, and asparagus alternately in buttered 2 quart casserole dish. Recipes - Asparagus Broccoli. Chicken, Asparagus, and Broccoli Stir-Fry Recipe Reviews by Epic.
---