Seeds
Online shopping for all your gardening equipment & supplies competitively priced. For all your favourite rare and unusual garden plants for the garden, market garden, allotment or grower we stock over 3,000 varieties. Seed for home gardeners, landscaping and professional growers suitable for gardens, the patio, hanging baskets, containers and plant sales.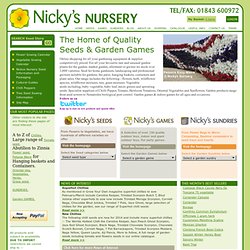 Nickys Garden shop - gardening equipment and garden supplies
British Wild Flower Plants - Norfolk UK
Mr Fothergill's
The Seed Site
Unwins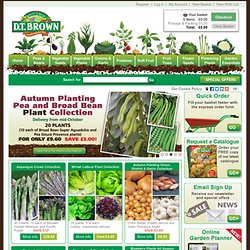 Selling everything you need for your garden or allotment, offering great quality and value for money. Shop now from our great range of vegetable seeds, potatoes, onions, garlic, vegetable plants, soft fruit and fruit trees all available through our catalogues or online. With FREE delivery on seed only orders, plus FREE labels with every order, plus great promotions. Violet Podded Delicious and attractive enough for the back of the flower border!
D.T. Brown's
T&M
Suttons
Chiltern Seeds