Seeds
Superhot Chillies As mentioned in Grow Your Own magazine superhot chillies to sow February/March include Carolina Reaper, Trinidad Scorpion Butch T, Bhut Jolokia other superhots to sow now include Trinidad Moruga Scorpion, Cornish Naga, Chocolate Bhut Jolokia, Trinidad 7 Pots, Jays Ghost, large selection of chillies for the garden, see our range of Superhot chilli seeds Read more >>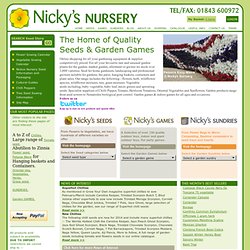 Nickys Garden shop - gardening equipment and garden supplies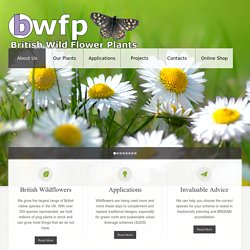 Now is a great time to be planting wild native species! Contact us for more information or check out our special plant mixes Delivery for our plugs and pots plants when ordered online is now FREE!! Our plugs are bigger, better and cheaper than most other providers! You can now buy a wide selection of our plants in packs 18 or 24 half-litre pots online. Prices are £37.99 or £49.99 including VAT and delivery*.
British Wild Flower Plants - Norfolk UK
Dear Fellow Gardener, Here at Mr Fothergill's our passion is to supply the very best quality gardening products, underpinned by the highest levels of customer service. Choose from our extensive selection of flower and vegetable seeds, carefully grown young flower and vegetable plants and expertly selected potatoes, onions, garlic, shallots, soft fruit and fruit trees. Whether you're new to home gardening or a seasoned expert, Mr Fothergill's will supply you competitively priced high quality products with service levels to match. Happy Gardening.John & David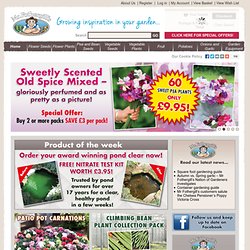 Mr Fothergill's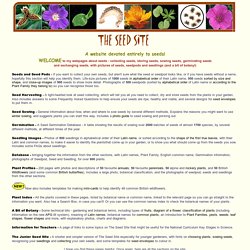 Seeds and Seed Pods - If you want to collect your own seeds, but aren't sure what the seed or seedpod looks like, or if you have seeds without a name, hopefully this section will help you identify them. Life-size pictures of 1000 seeds in alphabetical order of their Latin name, 950 seeds sorted by size and shape, and close-up images of 900 seeds to show more detail. Photographs of 500 seedpods (sorted by alphabetical order of Latin name or according to the Plant Family they belong to) so you can recognise those too. Seed Harvesting - A light-hearted look at seed collecting, which will tell you all you need to collect, dry and store seeds from the plants in your garden. Also includes answers to some Frequently Asked Questions to help ensure your seeds are ripe, healthy and viable, and several designs for seed envelopes to put them in.
The Seed Site
Unwins
D.T. Brown's
T&M
Suttons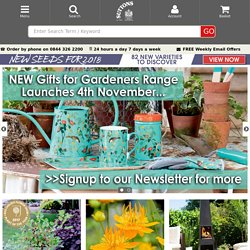 With over 200 years of gardening knowledge and expertise, Suttons Seeds have built an enviable reputation for quality products which guarantees you get the most from your garden. Whether you are looking to fill your greenhouse with plug plants,grow your own vegetables or create a spectacular bedding plant display, we have tried and tested our products to ensure quality for our customers. Gardening is fun, relaxing and satisfying and we are dedicated to making sure you get the most out of your space. So whether you've been a professional gardener for years or have dreamt of growing and picking your own apple tree, we have the products and the know-how to make your task easier. We are extremely proud of our heritage and follow 5 key principles: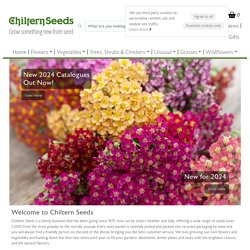 Chiltern Seeds
Chiltern Seeds is moving and the next generation is preparing to take over. All those years ago (37 and counting...), Douglas and Bridget set up Chiltern Seeds in the Chilterns. Always very much a family business, as it grew, their dream was that their daughters, Heather and Sally, would one day take over Chiltern Seeds and keep it in the family. Since Douglas died 2 years ago, Bridget has continued to run the business successfully with a little help from Heather and Sally.