Nephrology
Cochrane Renal Group: Home Page
The Renal Association
Admin login Advanced Search Help About us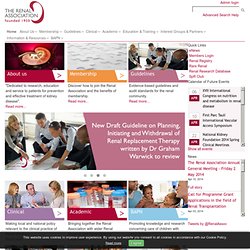 On the monthly ward round of your satellite dialysis unit you come across a new patient: a man in his mid-50s, originally from Cyprus, who has recently been discharged from the renal ward and transferred to your unit in the last week. From his discharge paper work and chatting to the patient you learn the following: Having being labelled as having 'small kidneys' this gentleman spent 3 years on haemodalysis before receiving a deceased donor transplant 6 years ago. This transplant was complicated by 2 early episodes of rejection and his creatinine never got much below 180umol/l. Concordance with clinic appointments and medicines was always deemed an issue by the medical team and 9 months ago the patient ceased to attend appointments.
Renal Association Education | 23 years old since 1950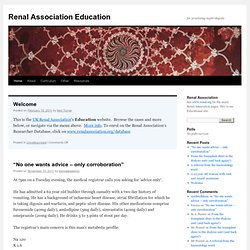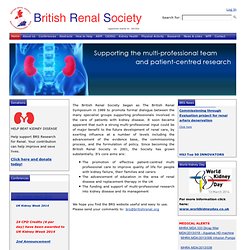 BRS
Log In Donations Help support BRS Research for Renal.
UK Renal Registry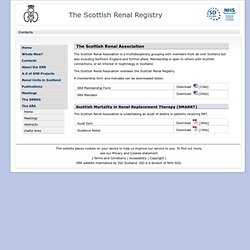 The Scottish Renal Association The Scottish Renal Association is a multidisciplinary grouping with members from all over Scotland but also including Northern England and further afield. Membership is open to others with Scottish connections, or an interest in nephrology in Scotland. The Scottish Renal Association oversees the Scottish Renal Registry.
The Scottish Renal Registry
EdRen - Edinburgh Royal Infirmary Renal Unit - Edren home
Edinburgh. Reload to see another image. More images Edren provides patient and staff info about kidney diseases. The Edren textbook is available at our sister educational website www.edrep.org. Hover over the links above for more explanation.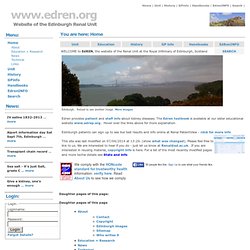 UKidney.com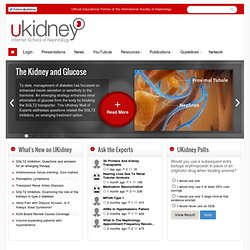 UKidney is a provider of educational tools for the study and practice of nephrology, hypertension management, and kidney transplantation. This site features essential educational contributions from major opinion leaders in nephrology. UKidney uses the latest web technology to deliver the best content in the field of renal education.
Site Description: Hypertension, Dialysis, and Clinical Nephrology provides up-to-date, selected information on renal disorders and their treatment (hemodialysis, peritoneal dialysis), and about hypertension, dialysis, and clinical nephrology topics. Hypertension, Dialysis, and Clinical Nephrology is a place for physicians and nurses who treat patients with kidney or renal disease. Here physicians and nurses can find answers to frequently asked hypertension, dialysis, and nephrology questions (FAQ), pointers to recent review articles, and summaries of hot new hypertension, dialysis, and nephrology papers, abstracts, and meeting presentations. Also, information about medical products, devices, services, and drugs pertaining to hypertension, dialysis, and clinical nephrology are provided, as is a list of links to relevant hypertension / dialysis / transplantation organizations, medical provider networks, and databases.
HCDN