Natural History
Champion Trees of the UK. For Members Only The Official Champion Tree Database is now showing in the Members Area.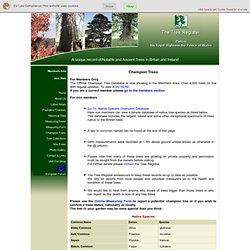 Over 4,000 trees on line with regular updates. To view JOIN HERE If you are a current member please go to the members section For non members Go To: Native Species Champion Database Here non members can view a simple database of native tree species as listed below. This database includes the largest, tallest and some other exceptional specimens of trees native to the British Isles.
Insects. Geology. 3D Human Anatomy. The IUCN Red List of Threatened Species. Encyclopedia of Life. Tree of Life Web Project. The Tree of Life Web Project (ToL) is a collaborative effort of biologists and nature enthusiasts from around the world.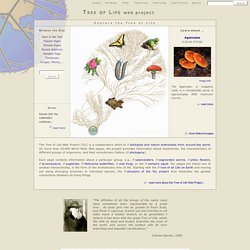 On more than 10,000 World Wide Web pages, the project provides information about biodiversity, the characteristics of different groups of organisms, and their evolutionary history (phylogeny). Each page contains information about a particular group, e.g., salamanders, segmented worms, phlox flowers, tyrannosaurs, euglenids, Heliconius butterflies, club fungi, or the vampire squid. ToL pages are linked one to another hierarchically, in the form of the evolutionary tree of life. The Wildlife Trusts. Bat Conservation Trust.