Vegan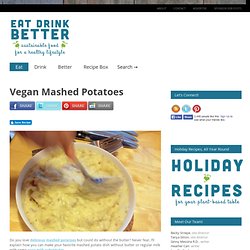 Do you love delicious mashed potatoes but could do without the butter? Never fear, I'll explain how you can make your favorite mashed potato dish without butter or regular milk with some easy milk substitutes. Head down to your favorite store and buy a pint of soy milk or almond milk. If you don't want your potatoes to have a distinct vanilla taste, then make sure to purchase the original or plain flavor.
Vegan Mashed Potatoes
Fried Almonds
This salad is loaded with vitamin C, A, Potassium and good heart-healthy fats!! There is something wonderful to me about biting into a salad with grapefruit. It's juicy and refreshing and lends a sort of bitter-sweetness to each bite. If you are not a fan of grapefruit this is also great with oranges or you could even do a combination. Let's talk about quinoa pronounced (KEEN-wah). It surprises me how many people have never even heard of quinoa.
Spinach and Quinoa Salad with Grapefruit and Avocado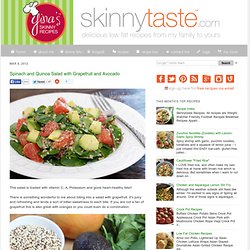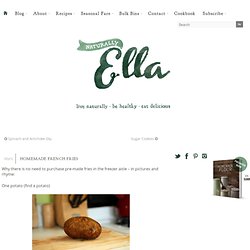 Why there is no need to purchase pre-made fries in the freezer aisle – in pictures and rhyme: One potato (find a potato) Two potato (cut the ends off) Three potato (cut slices)
Vegan Soup Recipes - warming, healthy and simple cooking
back to recipe categories Cream of Tomato Soup Ingredients: 2 tins of plum tomatoes about a cup of water (rinse out tins with it) 1 onion 5 cloves of garlic 2 medium sweet potatoes, peeled and chopped 1 or 2 handfuls of cashew nutsasalt to taste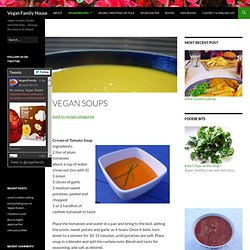 World's Greatest Vegan Mac n Cheeeeez
You won't believe it. I'm not kidding; you will not believe it. Mac n Cheeze without a bit o' butter, cream or cheese, but with a dense, creamy sauce that will fool even the staunchest dairy-vore. This is hands-down my favorite recipe to make for my non-veg friends. They can't believe how creamy num-num it is, or what the 'cheeze' sauce is composed of, or that there's not a lick of dairy in the entire dish.
Vegan Around the Clock: 25 Vegan Recipes from Breakfast to Dessert from The Kitchn Recipe Roundup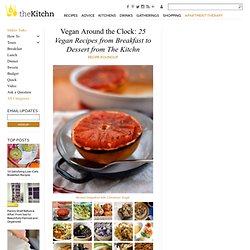 To be honest, when Vegan Week came up on the editorial calendar, I wasn't exactly brimming with ideas. It's not because I have anything against vegan cooking, but because when I cook vegan, it's usually an accident. See, vegan cooking often just happens when you try to let vegetables and grains shine in dishes without a lot of fuss. What I love about vegan cooking is not its fake-meat-like substances, but for its emphasis on simple ways to cook with fresh foods from the earth, without much fuss and lots of improvisation. And the great thing about having five years of recipe archives on TheKitchn.com is that when I do need to find a vegan recipe, I know where to go. Here are 25 of my favorite vegan recipes from the site, for breakfast, lunch, dinner, snacks and dessert.
Parsley Soup - Cherry's Vegan Recipes
How humans are not physically created to eat meat Although some historians and anthropologists say that man is historically omnivorous, our anatomical equipment ­ teeth, jaws, and digestive system favors a fleshless diet. The American Dietetic Association notes that "most of mankind for most of human history has lived on vegetarian or near-vegetarian diets." And much of the world still lives that way. Even on most industrialized countries, the love affair with meat is less than a hundred years old.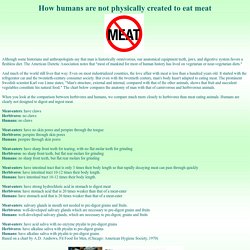 Vegan Store.com - Pangea Vegan Products. The Best in Vegan Shopping.