Whitewolf
Mage: The Sterile Version | Mob | United | Malcolm | Sheppard. Originally published at Mob | United | Malcolm | Sheppard.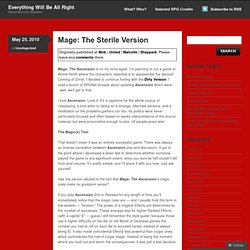 Please leave any comments there. Mage: The Ascension is on my mind again. I'm planning to run a game at Anime North where the characters' objective is to assassinate the Second Coming of Christ. I decided to continue fooling with the Dirty Version. I read a bunch of RPGNet threads about updating Ascension which were . . . well, we'll get to that. MrGone's Character Sheets. Wraith: The Oblivion.
Welcome to White-Wolf.com.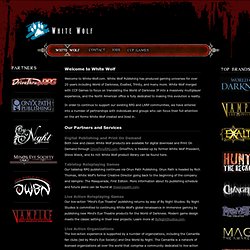 White Wolf Publishing has produced gaming universes for over 20 years including World of Darkness, Exalted, Trinity, and many more. White Wolf merged with CCP Games to focus on translating the World of Darkness IP into a massively multiplayer experience, and the North American office is fully dedicated to making this evolution a reality. Retooling Mage: The Ascension « Held Action. Something about role-playing inspires a do-it-yourself attitude in many hobbyists.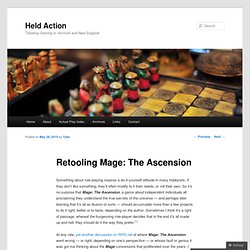 If they don't like something, they'll often modify to it their needs, or roll their own. So it's no surprise that Mage: The Ascension, a game about independent individuals all proclaiming they understand the true secrets of the universe — and perhaps later learning that it's all an illusion of sorts — should accumulate more than a few projects to do it right, better or to taste, depending on the author. Sometimes I think it's a right of passage, whereat the burgeoning role-player decides that in the end it's all made up and hell, they should do it the way they prefer.[1] MrGone's Character Sheets. Vampire The Masquerade Click Here to buy the Vampire: The Masquerade Revised books and help support this web site!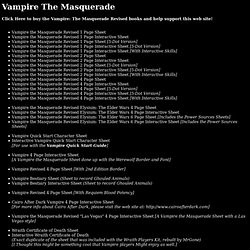 Vampire Translation Guide Sheets Click Here to buy the Vampire Translation Guide book and help support this web site! Vampire: The Masquerade - Bloodlines/Character creation — StrategyWiki, the free strategy guide and walkthrough wiki. Clan[edit] Each clan is different providing a specific strength and weakness.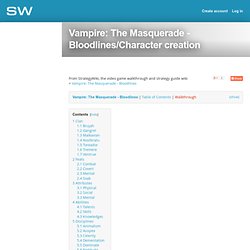 Each clan provides a set of three disciplines to use throughout the game. The chosen clan will also affect your starting stat distribution. Brujah[edit] Hot-headed, brash, idealists, and rebels, the Brujah are a rather militant clan.
---