Whitewolf
Mage: The Sterile Version | Mob | United | Malcolm | Sheppard
Vampire the Masquerade - Character Creation 100 Questions.pdf (application/pdf Object)
Wraith: The Oblivion
The Main Idea Wraith: The Oblivion is a tabletop and LARP game that places characters in the role of recently and not so recently deceased spirits who have not yet passed onto their next life. Wraiths inhabit the Underworld , a reality which intertwines with our own reality where the dead can observe the living, but interfere with them only marginally. Of all the White Wolf Games, Wraith had the most troubled history. Mark Rein·Hagen stated early in the development of the game that he wanted players to feel uncomfortable playing it.
Something about role-playing inspires a do-it-yourself attitude in many hobbyists. If they don't like something, they'll often modify to it their needs, or roll their own. So it's no surprise that Mage: The Ascension , a game about independent individuals all proclaiming they understand the true secrets of the universe — and perhaps later learning that it's all an illusion of sorts — should accumulate more than a few projects to do it right, better or to taste, depending on the author. Sometimes I think it's a right of passage, whereat the burgeoning role-player decides that in the end it's all made up and hell, they should do it the way they prefer. [1]
Retooling Mage: The Ascension « Held Action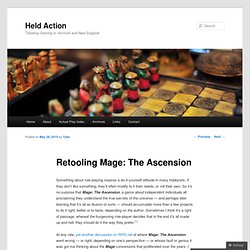 MrGone's Character Sheets
[ edit ] Clan Each clan is different providing a specific strength and weakness. Each clan provides a set of three disciplines to use throughout the game. The chosen clan will also affect your starting stat distribution. [ edit ] Brujah Hot-headed, brash, idealists, and rebels, the Brujah are a rather militant clan.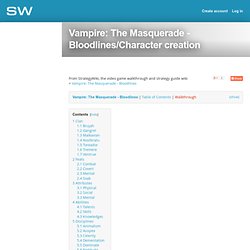 Vampire: The Masquerade - Bloodlines/Character creation — StrategyWiki, the free strategy guide and walkthrough wiki