Knowledge
Best Tool For the Job. I just re-read The Irresistible Offer by Mark Joyner, this time taking notes.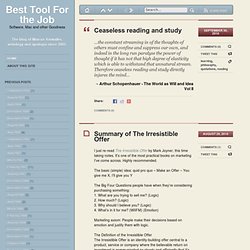 It's one of the most practical books on marketing I've come across. Highly recommended. The basic (simple) idea: quid pro quo – Make an Offer – You give me X, I'll give you Y The Big Four Questions people have when they're considering purchasing something: 1. Masterlock-01.png from wordpress.com.
11 Awesome Hangover Cures | Hang Over Remedies | MANjr. Hangovers are the worst.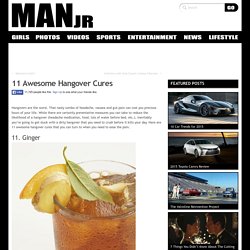 That nasty combo of headache, nausea and gut-pain can cost you precious hours of your life. While there are certainly preventative measures you can take to reduce the likelihood of a hangover (headache medication, food, lots of water before bed, etc.), inevitably you're going to get stuck with a dirty hangover that you need to crush before it kills your day.
Here are 11 awesome hangover cures that you can turn to when you need to ease the pain. The Scale of the Universe. Build an Atom. Webexhibits. Japanese. Tutorialism ~ 25 Awesome Virtual Learning Experiences Online - Virtual Education Websites. Posted by Mark on June 18th, 2009 Just because you're online doesn't mean that you can't experience the world first-hand — or as close to first-hand as possible.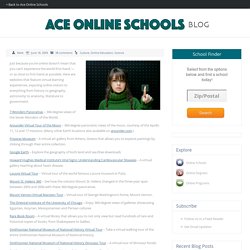 Here are websites that feature virtual learning experiences, exposing online visitors to everything from history to geography, astronomy to anatomy, literature to government. 7 Wonders Panoramas – 360-degree views of the Seven Wonders of the World. Arounder Virtual Tour of the Moon – 360-degree panoramic views of the moon, courtesy of the Apollo 11, 12 and 17 missions. (Many other Earth locations also available on arounder.com.)
Spiritual. List of common misconceptions. This incomplete list is not intended to be exhaustive.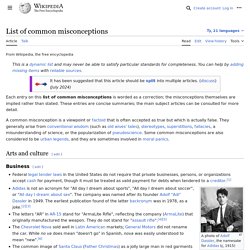 This list corrects erroneous beliefs that are currently widely held about notable topics. Each misconception and the corresponding facts have been discussed in published literature. Famous World Ideologies, as explained by references to Cows.
---