Get Organized
Consistency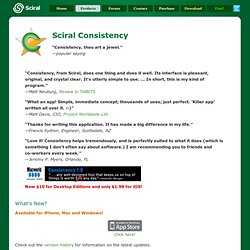 "Consistency, thou art a jewel." —popular saying "Consistency, from Sciral, does one thing and does it well.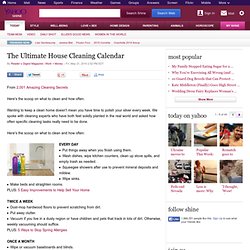 From 2,001 Amazing Cleaning Secrets Here's the scoop on what to clean and how often. Wanting to keep a clean home doesn't mean you have time to polish your silver every week.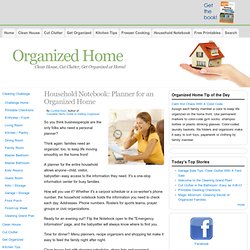 So you think businesspeople are the only folks who need a personal planner? Think again: families need an organizer, too, to keep life moving smoothly on the home front! Whether it's called a household notebook, a home management binder or family organizer, this simple idea saves time, cuts stress, and enhances communication in any-sized family or household. A standard-sized binder stocked with calendars and schedules, planner forms and inventories, a Household Notebook creates a one-stop information center for busy families. Whether it's a carpool schedule or a co-worker's phone number, the Household Notebook holds the information you need to check each day. Ready for an evening out?
MyLifeOrganized for BlackBerry. You can synchronize your tasks with MyLifeOrganized for Windows using usb sync or wirelessly using our Cloud Sync Service . Main features --------------- - Create tasks and any number of subtasks - Assign contexts or star the tasks - Combine tasks into projects - Filter tasks by contexts - Synchronize to MyLifeOrganized Windows Desktop Application (sold separately) - Add tasks to Inbox quickly - Filter tasks by your current location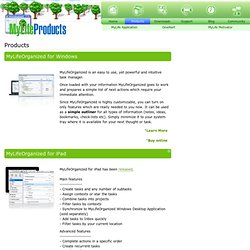 :: My Life Organized ::
Everything Organizing: 5 Organizing Websites » Michelle's Blog @EverythingMom.com
Don't Forget to participate in a contest where you can win the world's biggest UI elements pack "Impressionist User Interface Elements Pack" for 3 winners (1 developer license and 2 personal license) to design your project more creatively. This is one of the very best list of its kind where you can find the simplest online web designer's web apps that are developed for designers and may be very helpful for you as well when you want to get your work done or just for fun. I hope web designers will like this list, but you can also use them and will love them whether you are an office worker, a manager, a supervisor, a student, a home user, etc. Most of them are not very well-known, but they are really amazing in respect to their features. This is the list of Nine Brilliant Tools To Make Your Lives Easier.
Nine Brilliant Websites To Make Your Lives Easier @ SmashingApps