Images
Pixiv
TEGAKI Blog
Manga University's founding company, Japanime, marks its 15th anniversary this year. For the past decade and a half, we have given manga-and-anime fans throughout the world access to the resources and tools they need to create their own works of art. Today, "Manga University" is synonymous with "How to Draw Manga." What began as a small toy store in Kawaguchi City, Japan, on February 26, 1998, has evolved into the world's leading publisher of English-language educational manga. The Manga University publishing imprint was up and running within two years of our company's launch. We published our first book, How to Draw Manga: Getting Started, in October 2000.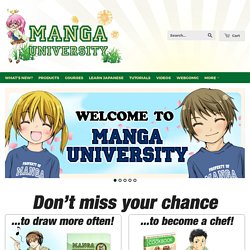 Manga University — How to Draw Manga
Manga Drawing
Как рисовать мангу
Приветствуем всех поклонников аниме (anime) и манга (manga) на нашем сайте! Как вы уже, наверное, догадались, он посвящен аниме, и, конечно же, рисованию в этом стиле. В первую очередь, данный сайт предназначен для новичков как в области рисования, так и просто в области аниме. Но и профессионалам, как опытным учителям мы тоже очень рады.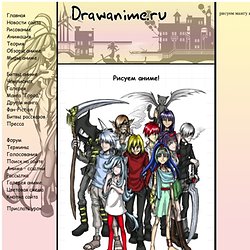 Рисуем аниме!
Konachan: Anime Wallpapers
Safebooru
Karabako
Danbooru
Zerochan: HQ Anime Image Board
Multi-service image search
Sankaku Channel
Gelbooru
Genso.ws: Touhou Imageboard
yande.re
oreno.imouto
theAnimeGallery.com - Thousands of Anime Wallpapers, DvD Covers, Artbooks and more...
shuushuu: Shuushuu Image Board
Minitokyo is an art community dedicated to Japanese culture, focusing mainly on anime wallpapers, and high quality scans from anime magazines and artbooks. You will need an account to download wallpapers and scans so sign up now! Anime Wallpaper Gallery
Minitokyo - Anime Wallpapers, Scans and more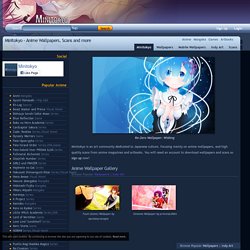 Anime Wallpapers and Videos
Аниме Обои
theOtaku
Anime Galleries dot Net - Welcome ! Pics, Images, Screencaps, and Scans
Win $10 in the Anime Wallpapers.Com August 2013 Wallpaper Contest or Origami Sticky Notes! All images are copyright of their respective owners, no copyright infringement is intended or implied. All images in personal albums are under the ownership of the album owners, and we take no responsibility for what may be contained therein, though they will be monitored for general obscenity, and copyright infringement. Site Layout, Anime Galleries dot Net and all other items not in public domain copyright 2004 Kaitou Ace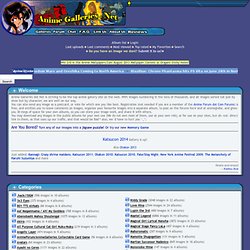 Ascii Art Archives for Recycle