J2EE
Get flash to fully experience Pearltrees
Spring MVC helps in building flexible and loosely coupled web applications. The Model-view-controller design pattern helps in seperating the business logic, presentation logic and navigation logic. Models are responsible for encapsulating the application data. The Views render response to the user with the help of the model object . Controllers are responsible for receiving the request from the user and calling the back-end services.
Articles Index The major theme of version 5 of the Java Platform, Enterprise Edition (Java EE, formerly referred to as J2EE) is ease of development. Changes throughout the platform make the development of enterprise Java technology applications much easier, with far less coding. Significantly, these simplifications have not changed the platform's power: The Java EE 5 platform maintains all the functional richness of the previous version, J2EE 1.4. Enterprise developers should notice dramatic simplification in Enterprise JavaBeans (EJB) technology . Previous articles, such as Introduction to the Java EE 5 Platform and Ease of Development in Enterprise JavaBeans Technology have described the simplifications made in EJB 3.0 technology, an integral part of the Java EE 5 platform.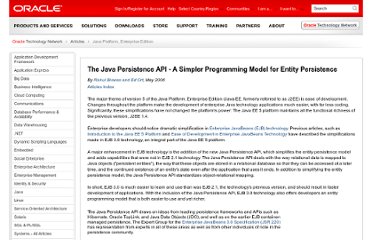 Par Serge Tahé (home) Ce document reprend un précédent document écrit en 2007 et intitulé "Introduction à Java EE avec Netbeans 5.5.1". Celui-ci intitulé "Introduction à Java EE 5 avec Netbeans 6.8 et le serveur Glassfish v3" adapte le document précédent à Netbeans 6.8.