ARM
Over the past three months, we've been working hard to finalize the specs for the Raspberry Pi device, and to produce schematics and a PCB layout. Last Tuesday, we sent an alpha release of the board for manufacture. From an electrical perspective, this board is intended to be identical to the final device; the resulting units will be used to validate the schematic design, and will serve as our interim software development platform. Raspberry Pi alpha PCB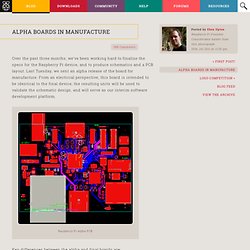 Alpha boards in manufacture | Raspberry Pi - Vimperator
Home - Vimperator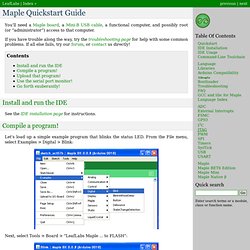 You'll need a Maple board, a Mini-B USB cable, a functional computer, and possibly root (or "administrator") access to that computer. If you have trouble along the way, try the troubleshooting page for help with some common problems. If all else fails, try our forum, or contact us directly! Compile a program! Let's load up a simple example program that blinks the status LED.
Maple Quickstart Guide — Maple v0.0.9 Documentation - Vimperator
Posted by Ram in ARM , embedded on May 27th, 2012 We are currently testing out some additional MCUs some comes with Ethernet so the inclusion of TCPIP stack could be included in the future scope. We also have received some request from Apple/Mac OSX users and as we currently don't have access to any Apple/Mac OSX system and without any funding we cannot proceed on this.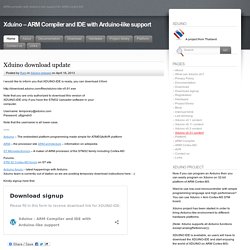 Xduino – ARM Compiler and IDE with Arduino-like support - Vimperator
GNU ARM™ toolchain for CygWin, Linux and MacOS - Vimperator
LPC1343 Code Base Documentation > - Vimperator
Projects > LPC1343 Reference Design > LPC1343 Code Base Documentation (v0.5.0) LPC1343 Code Base Documentation (v0.5.0) An overview of the main functions and structure of the LPC1343 Code Base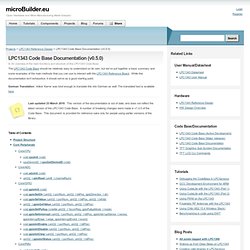 LPC1343 Reference Design - Vimperator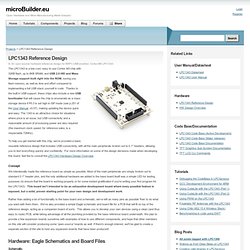 LPC1343 Reference Design An open-source hardware reference design for NXP's USB-enabled, Cortex-M3 LPC1343 The LPC1343 is a low-cost, easy to use Cortex M3 chip with 32KB flash, up to 8KB SRAM, and USB 2.0 HID and Mass Storage support built right into the ROM, saving you flash memory, as well as time and effort compared to implementing a full USB stack yourself in code. Thanks to the built in USB support, these chips also include a new USB bootloader that will cause the chip to enumerate as a mass storage device if P0.3 is set high in ISP mode (see p.251 of the User Manual, v0.07), making updating the device quick and easy. The 1343 is an attractive choice for situations where price is an issue, but USB connectivity and a reasonable amount of processing power are also required (the maximum clock speed, for reference sake, is a respectable 72MHz).
esden/summon-arm-toolchain - GitHub - Vimperator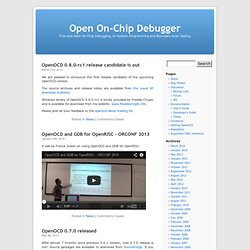 It took 13 months without 2 days this time, but here it is! Packages with sourcecode of new stable release of OpenOCD – 0.6.0 – are available for you to download from sourceforge's Download area. If you're using Windows, you may check out Freddie Chopin's website to download binaries for this system. Here is the NEWS file for this release, which highlights most important changes:
Our Classic Product: The Maple Mini This microcontroller board has most of the same essentials as the original full sized Maple, but in a smaller breadboard-friendly form factor. At the center of the Maple Mini is a 72MHz ARM Cortex-M3 chip, which can be programmed using either our simple graphical integrated development environment or existing industry-standard toolchains. For those who love and are familiar with Arduino, the Maple is offered in an physically-compatible format, complete with pin layouts and a graphic programming environment. Read more » Dual I2C and SPI ports 3 USART Serial ports 7-channel DMA Low power and sleep modes Dimensions: 2.02" x 0.72" Starting price: $35 from distributors Extensive documentation STM32F103RCBT6: a 32-bit ARM Cortex-M3 microprocessor at 72Mhz 20KB RAM and 128KB Flash Dedicated USB port for programming and communications 34 General Purpose pins 9 Analog inputs at 12-bit resolution 12 PWM pins at 16-bit resolution