Interesting
Glennz Tees - Funny Original T-Shirts. Life Hacks - StumbleUpon. Lighter Fun. Member: bmlbytes. OpenStudy – Make the World Your Study Group.
Cracking The Credit Card Code. There's hardly a more prominent financial product in America today than the almighty credit card.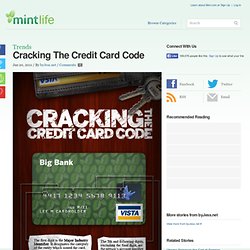 Nearly everybody has at least one — almost 80% of consumers in 2008, according to the Federal Reserve Bank of Boston — and many use it on a daily basis. Without a doubt, there are also those consumers who know their credit card numbers by heart (makes online shopping and booking travel so much easier, if anything). But how many of you know what those numbers really mean?
Contrary to what you may think, they aren't random.
---