Entrepreneurship
How To Make Money in Your Spare Time Doing Simple Online Tasks | Zero 2 Hero. Via: Lifehacker Many "online jobs" promising quick riches and little effort are really scams.
While the tasks below won't make you rich, they can earn you a little pocket money on the side—and these days that can make a big difference. Member: bmlbytes. Start A Business For Under $1000. We're not trying to pull a lame pick up line on you, but do you come here often?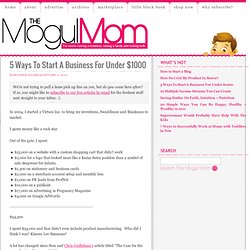 If so, you might like to subscribe to our free articles by email for the freshest stuff sent straight to your inbox. :) In 2004, I started 2 Virtues Inc. to bring my inventions, Swaddleaze and Blankeaze to market. I spent money like a rock star. Out of the gate, I spent: $15,000 on a website with a custom shopping cart that didn't work$2,000 for a logo that looked more like a Kama Sutra position than a symbol of safe sleepwear for infants.$1,300 on stationery and business cards$2,000 on a merchant account setup and monthly fees$1,000 on PR leads from ProfNet$12,000 on a publicist$17,000 on advertising in Pregnancy Magazine$4,000 on Google AdWords.
The 101 Things To Do Before You Graduate #11-20 | CampusSplash - College News and Tips. Monday we published numbers 1-10, now it's time to find out the next 10 things to do before you graduate. 11.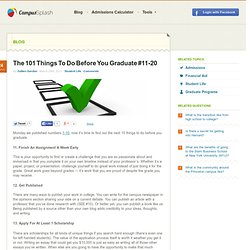 Finish An Assignment A Week Early This is your opportunity to find or create a challenge that you are so passionate about and immersed in that you complete it on your own timeline instead of your professor's. Whether it's a paper, project, or presentation, challenge yourself to do great work instead of just doing it for the grade. Great work goes beyond grades — it's work that you are proud of despite the grade you may receive. 40 Businesses You Can Start From Home | The Work at Home Wife. The Idea Swap.
---