Entrepreneurship
via: Lifehacker Many "online jobs" promising quick riches and little effort are really scams. While the tasks below won't make you rich, they can earn you a little pocket money on the side—and these days that can make a big difference.
In 2004, I started 2 Virtues Inc. to bring my inventions, Swaddleaze and Blankeaze to market. I spent money like a rock star.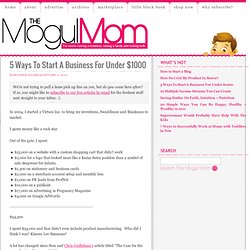 The 101 Things To Do Before You Graduate #11-20 | CampusSplash - College News and Tips.
Several times per year I get emails from former colleagues or friends stating that they lost their job or are sick of the corporate world.
40 Businesses You Can Start From Home | The Work at Home Wife