Photoshop Tutorials
Learn the Basics of Photoshop. Creating Energy Spheres in Photoshop. Share For this tutorial you'll want to find a photo of someone doing something that looks a bit larger than life.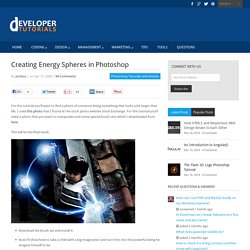 I used this photo that I found at the stock photo website Stock Exchange. For this tutorial you'll need a photo that you want to manipulate and some special brush sets which I downloaded from here. 25 Cool Photoshop Photo Effects Tutorials. Published on Mon, Aug-10-2009 by Dainis With Photoshop Photo effects you can modify your usual image to professional and interesting photo artwork.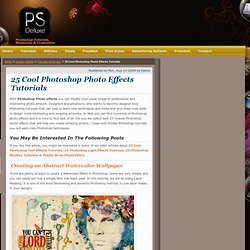 Designers and amateurs, who wants to become designer love Photoshop tutorials that can help to learn new techniques and tricks and give them new skills to design more interesting and amazing artworks. Photo Effect. Tutorial Magazine / photoshop / effects - StumbleUpon. Thoppp.com. Best Photoshop Tutorials. 50 Imaginative Fantasy Art Tutorials for Photoshop. Natural imagination is the key to creating Fantasy art.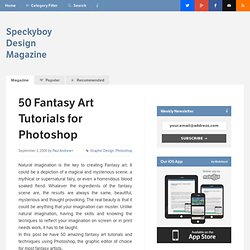 It could be a depiction of a magical and mysterious scene, a mythical or supernatural fairy, or even a horrendous blood soaked fiend. Whatever the ingredients of the fantasy scene are, the results are always the same, beautiful, mysterious and thought provoking. The real beauty is that it could be anything that your imagination can muster. Unlike natural imagination, having the skills and knowing the tecniques to reflect your imagination on screen or in print needs work, it has to be taught. 25 Cool Photoshop Photo Effects Tutorials. Photoshop. Designshard. Tutorials. Today most web designers will create the visual design of a website in Photoshop first and then once the design has been nailed down they will start to create the code from there.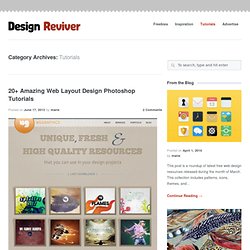 In this article we have collected 20+ amazing tutorials for creating web layouts in Photoshop. If you have used any other tutorials in the past feel free to share them with us! Continue Reading → With more and more businesses and business people handing out business cards to everyone and their dog it can sometimes be a little difficult to stand out among the crowd, on Monday we showed you some amazing business cards for inspiration, and today we will show you some of the best tutorials for creating your very own business card. Continue Reading →
Photoshop Enhancing Tutorials. Adobe Photoshop is the premier tool for digital artists when it comes to professionally enhancing images.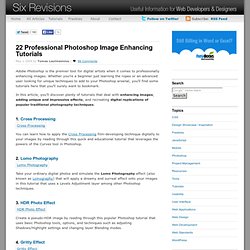 Whether you're a beginner just learning the ropes or an advanced user looking for unique techniques to add to your Photoshop arsenal, you'll find some tutorials here that you'll surely want to bookmark. In this article, you'll discover plenty of tutorials that deal with enhancing images, adding unique and impressive effects, and recreating digital replications of popular traditional photography techniques. 1.
Cross Processing. Understanding Histograms. Possibly the most useful tool available in digital photography is the histogram.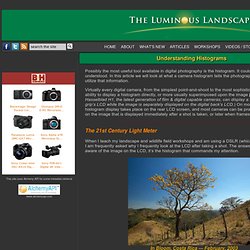 It could also well be the least understood. In this article we will look at what a camera histogram tells the photographer and how best to utilize that information.
---