Emulators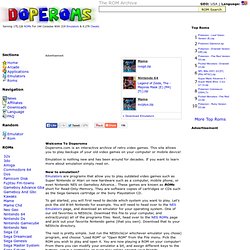 Advertisement Welcome To Doperoms Doperoms.com is an interactive archive of retro video games. This site allows you to play backups of your old video games on your computer or mobile device! Emulation is nothing new and has been around for decades. If you want to learn more about emulation simply read on.
DopeRoms
New to Emulation? Make sure to visit our tutorial section first! Looking to play classic games on your PC, Mac or mobile device? You've come to the right place! CoolROM.com is the largest retro gaming resource on the net - we have thousands of game (ROM) files and the latest emulator files to run them.
CoolROM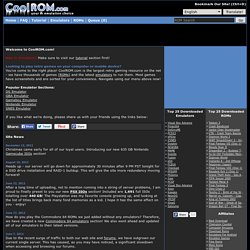 Emuparadise - N64 Playstation Dreamcast SNES Genesis NES MAME ROMs ISOs
GB64.COM - C64 Games, Database, Music, Emulation, Frontends, Reviews and Articles
GB64 MAYhem - Version 10 released! Ladies and Gentlemen, we are proud to announce that Version 10 of the Gamebase64 database has just been released - adding 500 Games to a new total of 23500 entries! SYS 64738, LOAD "$",8 and Enjoy!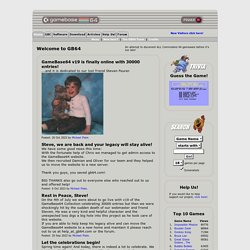 07 January 2014 6:00PM EST - Update by Chippy2000 Once again, the Revival of Pokemon Gold's beta and alpha stages presses on, and to an extent of reviving the Safari Zone! The Safari Zone has all the unused fleeing Pokemon, and many Pokemon you would see in the Red/Blue Safari Zone but is still having more Pokemon added. It's even accessible! This hack contains all but one Pokemon, the Japanese Jynx and has every Kanto Pokemon's beta name. Every map is finished, and even a few unused things are re-used but there are still a few to be done that require implementing.
Romhacking.net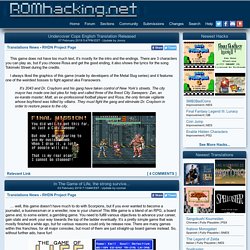 Andre's NES Emulator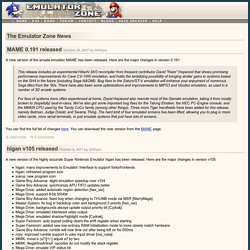 Your Source for Emulation!
Old Skool Games is pleased to announce that our Content Submission Contest is now underway! The contest is simple. All you have to do is come over to the site and click the link in our news post to the FAQ page for the contest, where you will learn all the rules about how to participate.
Rom Hustler - Download Snes roms Mame roms N64 roms GBA roms Genesis roms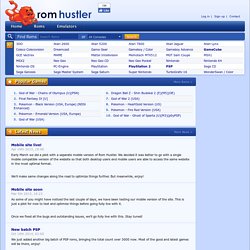 MAME updated to 0.150 Nov 2nd 2013, 10:02 Sorry for the delay on this update. MAME has just been updated to its latest version: 0.150.
MAME roms, SNES roms, N64 roms, Sega Roms - ROM-World.com
CoolROM.com - ROMs and Emulators - SNES ROMs NES ROMs N64 ROMs MAME ROMs GBA ROMs NDS ROMs