Emulators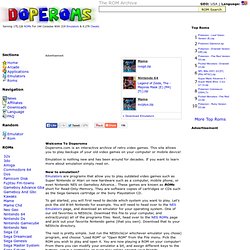 Advertisement Welcome To Doperoms Doperoms.com is an interactive archive of retro video games. This site allows you to play backups of your old video games on your computer or mobile device! Emulation is nothing new and has been around for decades. If you want to learn more about emulation simply read on.
DopeRoms
New to Emulation? Make sure to visit our tutorial section first! Looking to play classic games on your PC, Mac or mobile device? You've come to the right place! CoolROM.com is the largest retro gaming resource on the net - we have thousands of game (ROM) files and the latest emulator files to run them.
CoolROM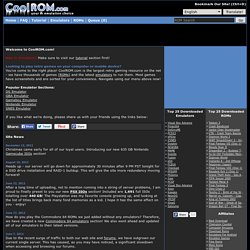 Emuparadise - N64 Playstation Dreamcast SNES Genesis NES MAME ROMs ISOs
GB64.COM - C64 Games, Database, Music, Emulation, Frontends, Reviews and Articles
GB64 Version 11 released - MARCHing on! It's Spring and to celebrate this, Version 11 of the Gamebase64 database has just been released! The total game count is now 24000 - which means, another 500 entries have been added!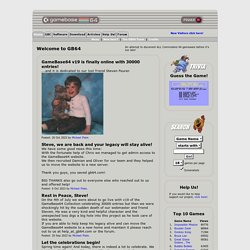 13 April 2014 9:31AM EST - Update by zzonkmiles One year after its previous release, the final version of Final Fantasy Zz Hard Type (Version 1.51) is now available for download. For those unfamiliar with this, FFZz is a considerably more difficult version of Final Fantasy for the NES. FFZz offers new weapons, buffed enemies, new magic spells, revised text dialogues, new enemy formations, and redesigned dungeons. Even though almost every team is required to be at Level 50 in order to beat this hack, it never feels like grinding. Final Fantasy Zz also offers numerous enhancements and bugfixes.
Romhacking.net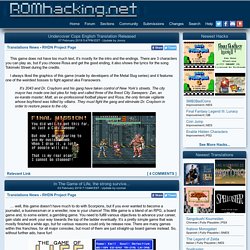 Andre's NES Emulator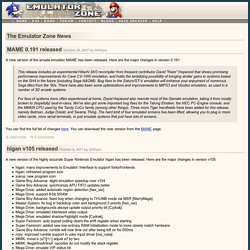 Your Source for Emulation!
Old Skool Games is pleased to announce that our Content Submission Contest is now underway! The contest is simple. All you have to do is come over to the site and click the link in our news post to the FAQ page for the contest, where you will learn all the rules about how to participate.
Rom Hustler - Download Snes roms Mame roms N64 roms GBA roms Genesis roms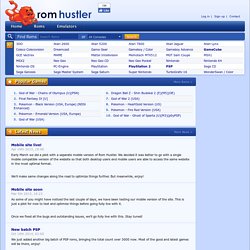 MAME Updated to 0.152 Apr 2nd, 03:29 Sorry for the delay on this update (and the skipping of 0.151). MAME has just been updated to its latest version: 0.152.
MAME roms, SNES roms, N64 roms, Sega Roms - ROM-World.com
CoolROM.com - ROMs and Emulators - SNES ROMs NES ROMs N64 ROMs MAME ROMs GBA ROMs NDS ROMs