BLENDER
Once again, I tune my brain to Sverchok set of mind and decided to use my brain a little bit. I downloaded the latest update of Sverchok Add-On and it has improved a lot since last time. Lots of new nodes and it helps to cover some complexity and making things much friendlier for artists to work.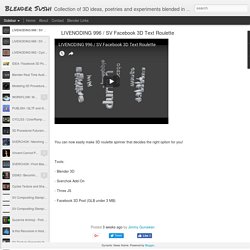 Addons! / Lukes Escape – Animated Short
Cycles Baking Baking is a popular 'technique' to flat down your shading work into easy to use images (textures) that can be applied to your 3d models without any concerns with lighting calculation. This can help game development, online visualization, 3d printing, archiviz animations, and many other... How Blender started, twenty years ago… I've managed to find the oldest backup of Blender, a snapshot of the first code I wrote to start a new project to replace the in-house tool "Traces". This started in the Christmas / New Year holidays of 1993, and with the first code working...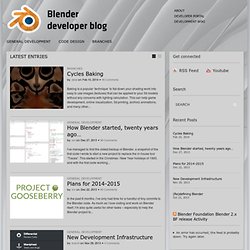 Blender Code Developer