BLENDER
Blender Sushi
There is one pending problem in my mind that I did not quite solve it in the past:http://blendersushi.blogspot.com.au/2012/08/procedural-question-of-brick-stacking.html Object stacking is an interesting problem. Let's try to think about it in Sverchok.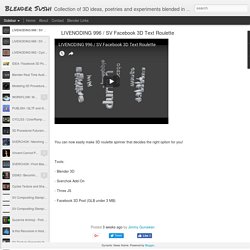 Addons! / Lukes Escape – Animated Short
How Blender started, twenty years ago… I've managed to find the oldest backup of Blender, a snapshot of the first code I wrote to start a new project to replace the in-house tool "Traces". This started in the Christmas / New Year holidays of 1993, and with the first code working... Plans for 2014-2015 In the past 6 months, I've only had time for a handful of tiny commits to the Blender code. As much as I love coding and work on Blender itself, I'm also quite useful for other tasks – especially to help the Blender project to...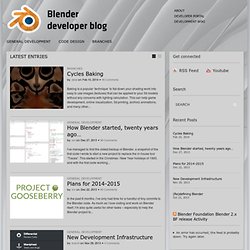 Blender Code Developer
Top 20 developers in 2013 To salute and applaud the developers: here's a 2013 top-20 Blender developers page. Plans for 2014-2015