Astronomy News
Voyager Image Gallery: Voyager at Jupiter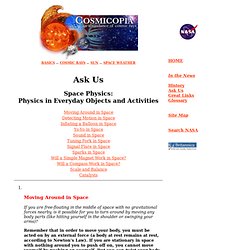 Moving Around in Space If you are free-floating in the middle of space with no gravitational forces nearby, is it possible for you to turn around by moving any body parts (like hitting yourself in the shoulder or swinging your arms)? Remember that in order to move your body, you must be acted on by an external force (a body at rest remains at rest, according to Newton's Law). If you are stationary in space with nothing around you to push off on, you cannot move yourself by pushing on yourself. But you can twist your body around its center of gravity - you just can't move your center of gravity. On Earth, we can walk forward because we push on the Earth and it pushes back on us. So the answer to your question is yes, you can turn yourself around, but you can't move from where you are.Dr.
Cosmicopia -- Ask Us - Space Physics
The Planets From tiny Mercury to distant Neptune and Pluto, The Planets profiles each of the Solar System's members in depth, featuring the latest imagery from space missions. The tallest mountains, the deepest canyons, the strongest winds, raging atmospheric storms, terrain studded with craters and vast worlds of ice are just some of the sights you'll see on this 100-page tour of the planets. Hubble Reborn Hubble Reborn takes the reader on a journey through the Universe with spectacular full-colour pictures of galaxies, nebulae, planets and stars as seen through Hubble's eyes, along the way telling the dramatic story of the space telescope, including interviews with key scientists and astronauts.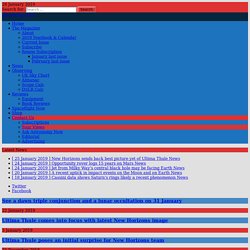 PICTURE OF THE DAYsee all » This image shows part of the North America Nebula (NGC 7000) in the constellation Cygnus the Swan. The orange supergiant Xi Cygni (also known as 62 Cygni) is the central star, together with the "west coast" of NGC 7000. (2.4-inch Takahashi FS-60C refractor at f/6.2, Quantum Scientific Instruments QSI 540wsg CCD camera, Hydrogen-alpha/RGB image with exposures of 60, 10, 10, and 10 minutes, respectively)