Asteroids and Comets
NASA JPL Home California Institute of Technology Asteroid Watch First 2014 Asteroid Discovered: Update Scientists have updated information about 2014 AA, the first asteroid discovered this year. Read more (January 02, 2014) Recent News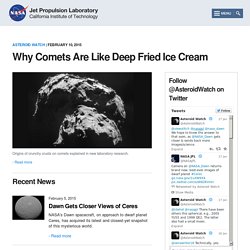 Apophis is an asteroid with an slightly offset orbit to that of Earth's. Discovered in June 2004, astronomers have determined that it will make a very close flyby on Friday, April 13th, 2029, where it will pass to within 5 Earth diameters of us. The exact path the asteroid follows on its flyby in 2029 will determine whether it smashes into the Earth seven years later.
Apophis: The Asteroid That Could Smash Into The Earth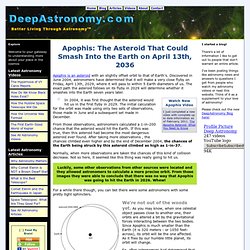 In summary: The Holidays got hold of me and I didn't get chance return as promised to deliver more movies and info. But I think it's perhaps time that I now take my leave of the stage and metaphorically pass on the the icy torch that is the story of the truly spectacular Comet Lovejoy. So I'll conclude here with a recap, and some final thoughts.
SOHO and STEREO Sungrazing Comets