Android Apps
Get flash to fully experience Pearltrees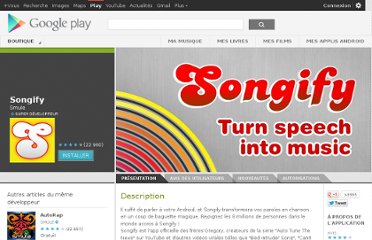 Il suffit de parler à votre Android, et Songify transformera vos paroles en chanson en un coup de baguette magique. Rejoignez les 8 millions de personnes dans le monde accros à Songify ! Songify est l'app officielle des frères Gregory, créateurs de la série "Auto Tune The News" sur YouTube et d'autres vidéos virales telles que "Bed intruder Song", "Can't hug Every Cat", "Double Rainbow", et "Winning!" Songify a été présenté dans le New York Times, USA Today, Forbes, MSNBC, The Guardian, Washington Post, Mashable et bien d'autres encore ! "La définition même de l'amusement !
Android 4.0 API Overview document.--> Android 4.0 for Users Simple, beautiful, beyond smart
by Luanne Teoh February 13, 2012 Browsing just got sweeter for those of you with a Nook tablet.