DOMAINE PC
Laptop reviews | Compare laptops, tablets, PCs and software reviews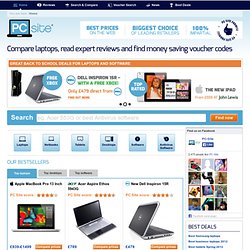 Great back to school deals for laptops and software <p class="java_message">A short message...</p><div class="the_java_message"><p>Our site uses a technology called Javascript which vastly improves the visits you make to our site. On this occasion it looks like <strong>javascript is turned off in your browser.
Première visite ? Pour ne rien manquer du site --> page "Plan du site" Bonne lecture et si vous avez des remarques, sur le fond comme sur la forme, n'hésitez pas à me mailer : c'est ainsi que je peux améliorer le site !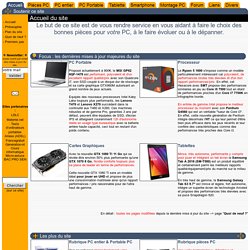 AMD a annoncé le lancement d'une nouvelle carte graphique, la Radeon R7 260. Cette carte n'est pas une énorme nouveauté car elle est basée sur le GPU Bonaire déjà utilisé dans la Radeon HD 7790 ainsi que dans la récente Radeon R7 260X. Le GPU de cette R7 260 est bridé à 12 CU sur 14 et la fréquence du GPU est fixée à 1 GHz. La carte dispose de 1 Go de mémoire GDDR5 et son TDP est annoncé à 95W.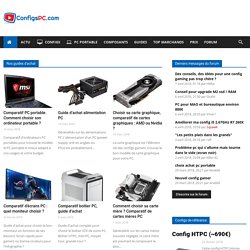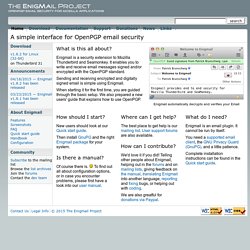 Enigmail automatically decrypts and verifies your Email What is this all about? Enigmail is a security extension to Mozilla Thunderbird and Seamonkey.
See Also HTTPNetworkSniffer - Shows HTTP requests/responses sent between the Web browser and the Web server. NK2Edit - Edit, merge and repair the AutoComplete files (.NK2) of Microsoft Outlook. Description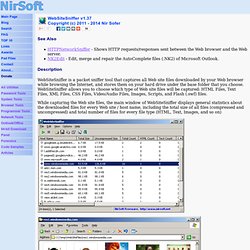 WebSiteSniffer
Liferacy - Portal, Content & Collaboration for the Enterprise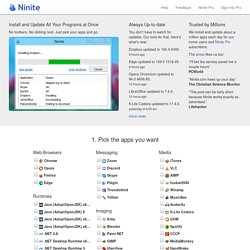 You can learn more about a program by hovering over it. Ninite installs apps for you in the background. No clicking next. We say NO to toolbars or other junk. Your installer will update apps to the latest versions. If something is up-to-date we'll skip it.
SymMover helps you move a folder from one disk to another, and keep its "location" in Windows Explorer. Windows still "thinks" the folder is located in the same place as before, even though it's not. SymMover achieves this by first moving the folder to its destination, and then creating a symbolic link between the source and destination. This means that software and games will still work after you move them to another disk. SymMover is designed for moving software and games. You can easily add installed software and games to SymMover's main window, and move them back and forth between disks.
Moba Software
ActiveX Compatibility Manager: disable/enable ActiveX components on IE
Description This utility allows you to easily disable/enable ActiveX components on Internet Explorer browser. It disables the desired ActiveX component by setting the "kill bit" of the desired CLSID under the following Registry key: HKEY_LOCAL_MACHINE\SOFTWARE\Microsoft\Internet Explorer\ActiveX Compatibility For more information about this Registry key, read this Microsoft article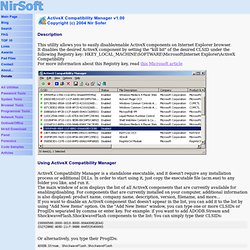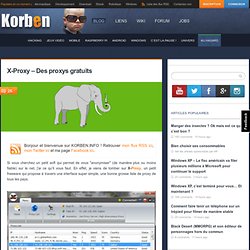 X-Proxy – Des proxys gratuits Si vous cherchez un petit soft qui permet de vous "anonymiser" (de manière plus ou moins fiable) sur le net, j'ai ce qu'il vous faut. En effet, je viens de tomber sur X-Proxy, un petit freeware qui propose à travers une interface super simple, une bonne grosse liste de proxy de tous les pays. L'outils est très pratique à utiliser car il suffit de cliquer sur 1 seul bouton pour changer de proxy et donc d'IP.
X-Proxy – Des proxys gratuits
Du chiffrement dans le navigateur avec OpenGPG, c'est possible depuis longtemps sur Firefox avec par exemple avec FireGPG malheureusement arrêté (mais encore installable). Sur la navigateur de Google par contre, il n'y avait rien jusqu'à encore peu de temps. Mais enjoyez puisque les petits gars de Recurity Labs ont mis au point une extension pour Chrome qui permet de chiffrer vos messages via gmail en utilisant les spécifications officielles OpenPGP et compatible OpenGPG.
Chiffrez vos emails dans Gmail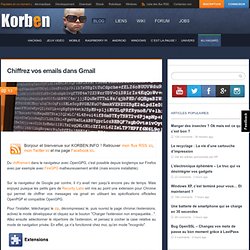 Standard and Poor's abaisse la note de 5 banques tunisiennes
- : Standard and Poor's abaisse la note de 5 banques tunisiennes 30/05/2012 L'agence de notation américaine Standard and Poor's (S&P) abaisse le 25 mai 2012, la note de 5 banques tunisiennes , une semaine après l'abaissement de la note de la dette Long Terme de la Tunisie de 2 crans (de BBB- avec perspective négative à BB avec perspective stable). Ainsi, les notes de la BTK et de la BTE ont baissé d'un cran passant respectivement de BB+ à BB et de BB à BB-. D'autre part, les notes de l'ATB et de la BH ont reculé de 2 crans passant respectivement de BBB- à BB et de BB+ à BB-.
Suite à l'installation ou à la désinstallation de programmes, des fichiers systèmes peuvent se trouver modifiés. Le logiciel en question les a peut-etre écrasés avec ses propres fichiers, moins récents, ou les a supprimés en se désinstallant. Une dll manquante par exemple peut causer de nombreux dysfonctionnements, et trouver une dll dans sa version d'origine n'est pas toujours évident.L' utilitaire SFC, System File Checker, s'occupe de vérifier les fichiers systèmes modifiés de windows et de les remplacer.
Sfc /scannow - vérifier les fichiers systèmes