Réseaux sociaux et ROI
L'analyse et l'intelligence collective, les vrais ROI de la veille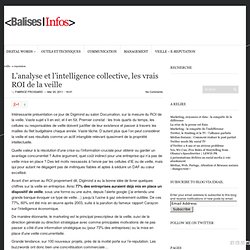 Intéressante présentation ce jour de Digimind au salon Documation, sur la mesure du ROI de la veille. Vaste sujet s'il en est, et il en fût. Premier constat : les trois quarts du temps, les cellules ou responsables de veille doivent justifier de leur existence et passer à travers les mailles du filet budgétaire chaque année.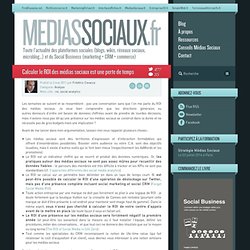 Les semaines se suivent et se ressemblent : pas une conversation sans que l'on me parle du ROI des médias sociaux. Je veux bien comprendre que les directions générales ou autres donneurs d'ordre ont besoin de données chiffrées avant de prendre de lourdes décisions, mais n'avions-nous pas dit qu'une présence sur les médias sociaux se construit dans la durée et ne nécessite pas de gros budgets mais une implication ? Avant de me lancer dans mon argumentation, laissez-moi vous rappeler plusieurs choses : Les médias sociaux sont des territoires d'expression et d'interaction formidables qui offrent d'innombrables possibilités. Booster votre audience ou votre C.A. sont des objectifs louables, mais il existe d'autres outils qui le font bien mieux (respectivement les AdWords et les promotions).Le ROI est un indicateur chiffré qui se nourrit et produit des données numériques.
In order for companies to realize the maximum benefit and impact from social media marketing, the pre requisite for goal setting must be a certain level of understanding about the nature of online communities, social media sharing web sites and applications. Unrealistic expectations based on a lack of knowledge about the social web is far too expensive to ignore. At Search Marketing conferences, you'll hear a lot about driving website traffic and links through social media linkbait – a SEO tactic that is distinctly different than what goes into building customer relationships. Companies like Proctor & Gamble are paying for engagement, not eyeballs. Companies that want to take full advantage of better customer engagement, online word of mouth and influence on sales should ask themselves a few key measurement and related questions while developing a social media strategy:
Social Media Measurement - 10 Essential Questions to Start - Online Marketing Blog
Social Media Monitoring, Analysis & Engagement
Difficile de faire du business sur les réseaux sociaux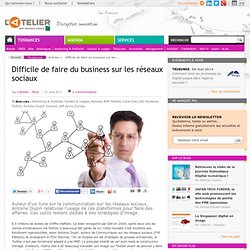 Auteur d'un livre sur la communication sur les réseaux sociaux, Antoine Dupin relativise l'usage de ces plateformes pour faire des affaires. Ces outils restent dédiés à des stratégies d'image. 6,5 millions de dollars de chiffre d'affaire.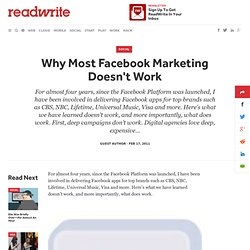 For almost four years, since the Facebook Platform was launched, I have been involved in delivering Facebook apps for top brands such as CBS, NBC, Lifetime, Universal Music, Visa and more. Here's what we have learned doesn't work, and more importantly, what does work. First, deep campaigns don't work.