State of Social Meida
Social Discovery Is Pushing Search and Social Closer. Social discovery will remake the Internet, or at least how we plumb it.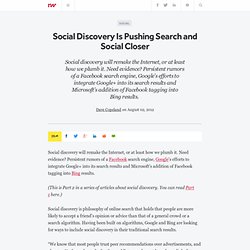 Need evidence? Persistent rumors of a Facebook search engine, Google's efforts to integrate Google+ into its search results and Microsoft's addition of Facebook tagging into Bing results. (This is Part 2 in a series of articles about social discovery. You can read Part 1 here.) Mining the Web for Business Intelligence. In web and social media monitoring, separating the useful web chatter from the irrelevant stuff is not easy to do.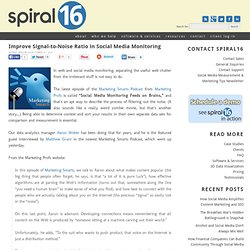 The latest episode of the Marketing Smarts Podcast from Marketing Profs is called "Social Media Monitoring Feeds on Brains," and that's an apt way to describe the process of filtering out the noise. (It also sounds like a really weird zombie movie, but that's another story…) Being able to determine context and sort your results in their own separate data sets for comparison and measurement is essential.
Will the Web Rule the World? Posted by Michael R.H.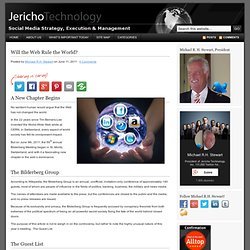 Stewart on June 11, 2011 · 4 Comments A New Chapter Begins No sentient human would argue that the Web has not changed the world. All Things Social Media - Google News. Social networks are becoming your personal operating system. Today's biggest trends — the mobile web, social media, gamification, real-time — are changing the landscape for business.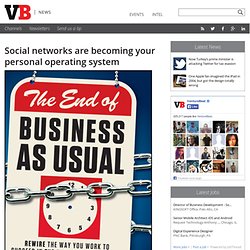 Consumers are connecting with one another, and in the process they're becoming increasingly empowered and influential. How these connected consumers discover, share, and communicate is different than the way they used to. This change requires businesses to rethink their approach. Organizations need to examine the impact of technology on consumer behavior and understand how connected consumers make decisions and influence the decisions of their peers.
Fast Company Magazine November 2011 Issue 160. Twitter Drives 4x as Much Traffic as You Think. Here's Why … Editor's Note: This is a guest post by Mark Suster (@msuster), a 2x entrepreneur, now VC at GRP Partners.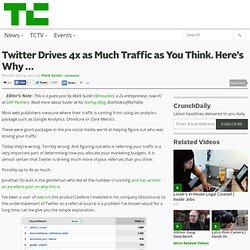 Read more about Suster at his Startup Blog, BothSidesoftheTable. Most web publishers measure where their traffic is coming from using an analytics package such as Google Analytics, Omniture or Core Metrics. These were good packages in the pre social media world at helping figure out who was driving your traffic. Today they're wrong. Book review: The End Of Business As Usual by Brian Solis - Founder of Altimeter Group, Author of Open Leadership, Coauthor of Groundswell. My colleague Brian Solis has just published his latest book, "The End Of Business As Usual: Rewire The Way You Work To Succeed".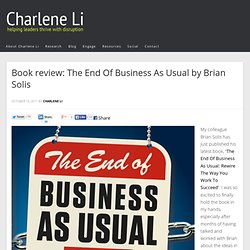 I was so excited to finally hold the book in my hands, especially after months of having talked and worked with Brian about the ideas in the book. This is not a book about how to use social media. Read Brian's last book, "Engage" as it's an excellent primer with detailed how-tos. The State Of Social Media 2011: Social Is The New Normal. This post is one in a series introducing my new book, The End of Business as Usual.
The state of social media is no insignificant affair. Nor is it a conversation relegated to a niche contingent of experts and gurus. Social media is pervasive and it is transforming how people find and share information and how they connect and collaborate with one another. I say that as if I'm removed from the media and cultural (r)evolution that is digital socioeconomics. But in reality, I'm part of it just like everyone else. Social Network Wars: How The Five Major Platforms Stack Up [INFOGRAPHIC] Most people don't have the social steam to power a presence on Google+, Facebook, Twitter, LinkedIn and Tumblr.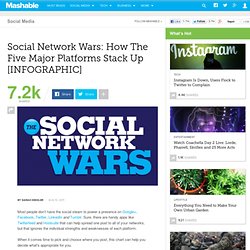 Sure, there are handy apps like Twitterfeed and Hootsuite that can help spread one post to all of your networks, but that ignores the individual strengths and weaknesses of each platform. When it comes time to pick and choose where you post, this chart can help you decide what's appropriate for you. Infographic design by Emily Caufield. The Growth of Social Media: An Infographic. UPDATE: We have published a new version of this popular Infographic here -> which covers data up through November 2013.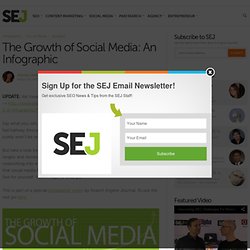 Say what you will about the tidal wave that is social media: it's over-hyped, a fad halfway through its 15 minutes, that <insert social network, platform, app> surely won't be around in a few years' time. But take a look below at the steep curve of the user growth rate in all age ranges and demographics, and the continuing pervasiveness of social networking into every facet of work, play and life in general.
---