Privacy on the Web
The Stupidest Tech Laws Congress Is Trying To Pass. Associated Press Senator Leahy The bill: S. 968: Protect IP Act.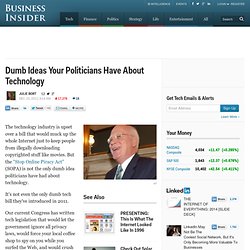 Max's privacy war brings Facebook to heel. Austrian student Max Schrems sits with 1222 pages worth of his personal data that Facebook provided to him.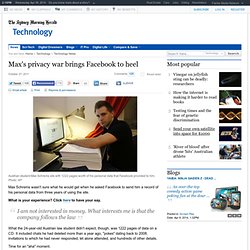 Photo: AP Max Schrems wasn't sure what he would get when he asked Facebook to send him a record of his personal data from three years of using the site. What is your experience? Click here to have your say. Keen On … It's Official: Privacy Is Dead (TCTV) Yes, it's really true.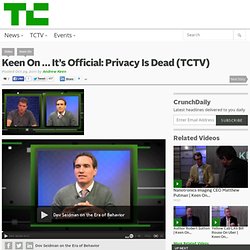 Nobody can hide anything anymore in our digital age of transparency. And thus, Dov Seidman, author of the re-released How and CEO of LRN, says we have entered an "era of behavior" in which we can no longer separate our private and public lives. As Seidman told me when we caught up earlier this week on Skype, the era of behavior means that our reputations now always "precede us". And this "unprecedented transparency" compounds the possibility of doing both good and evil. Facebook Says 600,000 Accounts Compromises Per Day. In a blog entry on Thursday, Facebook stated that about 600,000 log-ins every day are compromised.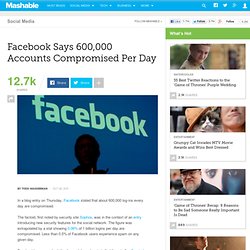 The factoid, first noted by security site Sophos, was in the context of an entry introducing new security features for the social network. The figure was extrapolated by a stat showing 0.06% of 1 billion logins per day are compromised. Less than 0.5% of Facebook users experience spam on any given day. Facebook's proposed solution for such breaches is to find three to five "trusted friends". Spokeo Knows Where You Live, How Much You Make, and How Old You Are - Culture. If he was like mine, your grandfather always said "the computers" were going to get too powerful one day.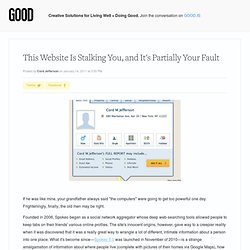 Frighteningly, finally, the old men may be right. Founded in 2006, Spokeo began as a social network aggregator whose deep web-searching tools allowed people to keep tabs on their friends' various online profiles. The site's innocent origins, however, gave way to a creepier reality when it was discovered that it was a really great way to wrangle a lot of different, intimate information about a person into one place. What it's become since—Spokeo 5.0 was launched in November of 2010—is a strange amalgamation of information about where people live (complete with pictures of their homes via Google Maps), how much money they make, how to reach them on the phone, and who their relatives are.
Who Owns Your Identity on the Social Web? When I go to a bar, the bouncer usually stops me and asks for an ID.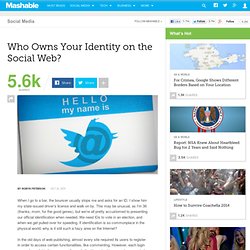 I show him my state-issued driver's license and walk on by. This may be unusual, as I'm 36 (thanks, mom, for the good genes), but we're all pretty accustomed to presenting our official identification when needed. We need IDs to vote in an election, and when we get pulled over for speeding. If identification is so commonplace in the physical world, why is it still such a hazy area on the Internet? In the old days of web publishing, almost every site required its users to register in order to access certain functionalities, like commenting.
---