Occupy The Enterprise
'Occupy' Now a Banned Search Term in China - Technology. A good rule of thumb for life is that if the Chinese government is against it, you're probably doing something right.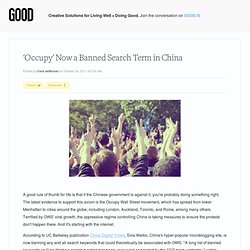 The latest evidence to support this axiom is the Occupy Wall Street movement, which has spread from lower Manhattan to cities around the globe, including London, Auckland, Toronto, and Rome, among many others. Terrified by OWS' viral growth, the oppressive regime controlling China is taking measures to ensure the protests don't happen there. And it's starting with the internet. According to UC Berkeley publication China Digital Times, Sina Weibo, China's hyper-popular microblogging site, is now banning any and all search keywords that could theoretically be associated with OWS. Is Occupy Wall Street the Tumblr Revolution? - Technology. Iran's Green Movement was hailed as the Twitter Revolution.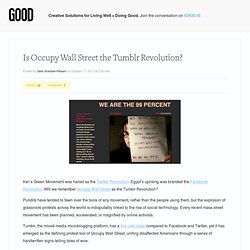 Egypt's uprising was branded the Facebook Revolution. Will we remember Occupy Wall Street as the Tumblr Revolution? Occupy Wall Street: What Businesses Need to Know - Hari Bapuji and Suhaib Riaz. By Hari Bapuji and Suhaib Riaz | 8:27 AM October 14, 2011 With the Occupy Wall Street demonstrations spreading from New York to other U.S. cities this week, business leaders beyond the stock exchanges are wondering what exactly is going on: Is this truly the American version of the Arab spring? What do the demonstrators want? What outcome can be expected? Should businesses respond to the Wall Street protests, and if so, how? One Country, Two Revolutions. Why?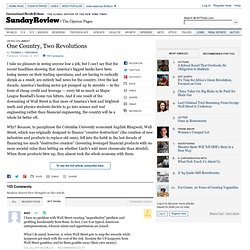 Because, to paraphrase the Columbia University economist Jagdish Bhagwati, Wall Street, which was originally designed to finance "creative destruction" (the creation of new industries and products to replace old ones), fell into the habit in the last decade of financing too much "destructive creation" (inventing leveraged financial products with no more societal value than betting on whether Lindy's sold more cheesecake than strudel).
When those products blew up, they almost took the whole economy with them. Marc Benioff Wants To #OccupyTheEnterprise.
---