Google Products
Facebook Twitter Google+ Save E-mail Share Print Earlier this week we published an article about Google Apps, and Google's struggle to displace Microsoft Office and Sharepoint inside large corporations. While Google has worked without a large consulting partner, it should be said that several smaller consultancies are working to encourage companies to adopt Google's cloud-based office productivity software. Among these are Dito , SADA Systems , Appirio and Cloud Sherpas . Each offers a somewhat different approach.
Consultants in the Cloud
Although Google+ is still only a few months old, there seem to be plenty of people willing to write it off as doomed, or close to it. Steve Rubel of Edelman says that he has given up on it , Robert Scoble says its brand pages are a mess , and Farhad Manjoo at Slate argues it's all but dead , killed by its failure to offer enough right out of the gate. While it would be tempting to agree that Google has flubbed yet another attempt at social networking, since its track record in that area is so famously underwhelming, there are good reasons to believe that Google+ will be around for a while. If anything, it is only beginning to show its real power. Rubel says he has quit the network because there just isn't enough going on there in terms of engagement , and so he has retreated to his Tumblr blog and to Twitter (Rubel, the head of digital strategy for the global Edelman PR agency, recently nuked his blogs and switched over to Tumblr as his main communications channel).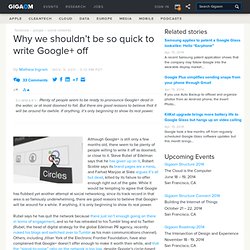 Why we shouldn't be so quick to write Google+ off
Sharing to Google+ - Google Reader Help
Brian Shih, a former Google Reader Product Manager, says that the latest Reader update is "a disaster" . One of the reasons could be that most of the initial members of the Reader team left Google and the new team doesn't understand the goal of the product. "It's as if whoever made the update did so without ever actually using the product to, you know, read something. Reader is a product built to consume information, quickly. We designed it to be very good at that one thing.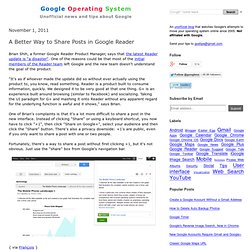 A Better Way to Share Posts in Google Reader
Gmail's new look
What are feeds? I see "RSS", "XML", and "Atom" out there, but I don't know how I might use these links when I find them. Feeds are a way for websites large and small to distribute their content well beyond just visitors using browsers. Feeds permit subscription to regular updates, delivered automatically via a web portal, news reader, or in some cases good old email. Feeds also make it possible for site content to be packaged into "widgets," "gadgets," mobile devices, and other bite-sized technologies that make it possible to display blogs, podcasts, and major news/sports/weather/whatever headlines just about anywhere.
Last week TechCrunch founder Michael Arrington wrote a post highlighting the fact that iPhone users can get a surprisingly good experience using Google Voice if they're willing to switch to Sprint. Google Voice on the iPhone typically has some hurdles, mostly because Apple won't let the native Google Voice app 'take over' the dialer the way it can on Android (not to mention the fact that the iOS GV app is notoriously buggy). But Sprint has done some unique, deep integration at the carrier level that minimizes these issues. His post got me thinking about my experience with Google Voice since I began using it exclusively in November 2009. My conclusion: there are a lot of areas for improvement.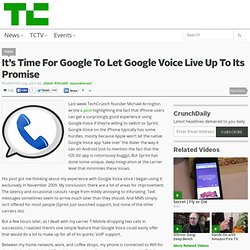 It's Time For Google To Let Google Voice Live Up To Its Promise
YouTube Confirms Plans To Take On Cable With 'Channels', Names Dozens Of Partners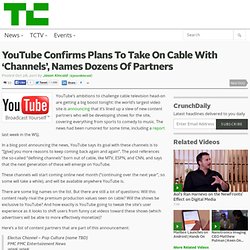 YouTube's ambitions to challenge cable television head-on are getting a big boost tonight: the world's largest video site is announcing that it's lined up a slew of new content partners who will be developing shows for the site, covering everything from sports to comedy to music. The news had been rumored for some time, including a report last week in the WSJ. In a blog post announcing the news, YouTube says its goal with these channels is to "[give] you more reasons to keep coming back again and again". The post references the so-called "defining channels" born out of cable, like MTV, ESPN, and CNN, and says that the next generation of these will emerge on YouTube. These channels will start coming online next month ("continuing over the next year", so some will take a while), and will be available anywhere YouTube is.