CEO Interviews
The Ultimate CEO Twitter List. CEOs: they're just like us!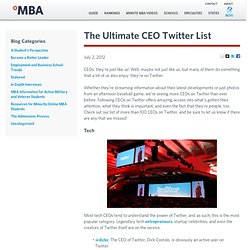 Well, maybe not just like us, but many of them do something that a lot of us also enjoy: they're on Twitter. Whether they're streaming information about their latest developments or just photos from an afternoon baseball game, we're seeing more CEOs on Twitter than ever before. Following CEOs on Twitter offers amazing access into what's gotten their attention, what they think is important, and even the fact that they're people, too. Reid Hoffman of LinkedIn Has Become the Go-To Guy of Tech. TechCrunch. To be successful in business, you need to see what others don't Brian Solis. InShare86 I can't believe that The End of Business as Usual is now officially available.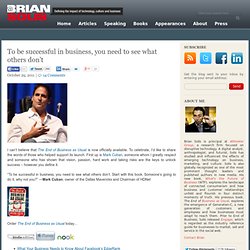 To celebrate, I'd like to share the words of those who helped support its launch. First up is Mark Cuban, someone whom I greatly respect and someone who has shown that vision, passion, hard work and taking risks are the keys to unlock success – however you define it. "To be successful in business, you need to see what others don't. Web 2.0 Summit 2011: Sean Parker, "A Conversation with Sean Parker" Arianna Huffington on Citizen Journalism. Reid Hoffman Confirmed To Speak At Innovation Uncensored San Francisco. Update: Registration for Innovation Uncensored in San Francisco closes tonight.
Get in while you can! We are excited to announce the latest addition to our notable list of speakers: Reid Hoffman, partner, Greylock Partners. Reid Hoffman is more than a venture capitalist. FastCompany's Channel.
---