MySOA
The SOA Magazine. SOA in Healthcare Conference. Ken Rubin, Chief Architect, Federal Healthcare Portfolio, HP Enterprise Services and Robert Lario, Principal, Visumpoint, Co-chairs, Healthcare DTF at OMG. 'Interconnecting Health' is a theme that continues to come up, not just within the US, but globally.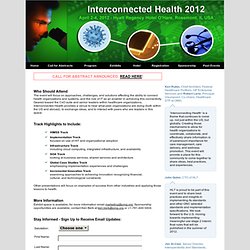 Creating those mechanisms to allow for health organizations to coordinate, collaborate, and effectively share information is of paramount importance for care management, care delivery, and wellness promotion. This event will provide a place for this community to come together to share ideas, best practices, and experiences. John Quinn, CTO of HL7. 10 Must-Know Topics For Software Architects In 2009.
In the last year or so, after quite a lull, the software architecture business has gotten rather exciting again.
We're finally seeing major new topics emerging into the early mainstream that are potential game-changers, while at the same time a few innovations that have been hovering in the margins of the industry are starting to break out in a big way. The big changes: The hegemony of traditional 3 and 4-tier application models , heavyweight run-time platforms, and classical service-oriented architecture that has dominated for about a decade is now literally being torn asunder by a raft of new approaches for designing and architecting applications. SOA. What's Next for SOA? Discussing SOA future, Joe McKendrick asks in his new post What's the next step for service oriented architecture?
Many see it melding with other disciplines, as it doesn't make for a business case on a standalone basis - a business is going to demand streamlined customer care, or a more responsive ERP system, but never just "SOA"
---