Magento
Magento theme #24580 by Mercury. Service Description: You may order a version of this template that would be completely compatible with Magento Enterprise Edition.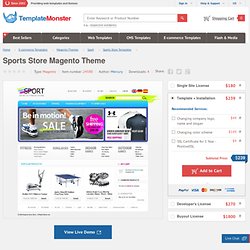 This solution will provide you with an extensive suite of professional storefront features as well as unprecedented flexibility and control over the look, content and functionality of your online store. IMPORTANT NOTICE: The price of this particular offer does not include charges from Magento for the usage of Magento Enterprise Edition software, this current price only includes customization of a template. However we will provide support and updating services on the theme itself during 12 months for free. Workflow: The Sales Manager from TemplateTuning.com will contact you within 24 hours from when you make the purchase at the email address that you specify to discuss the details with you.
Grayscale - Free magento 1.4 theme from WebAndPeople.com. Magento Connect - Magento Mobile - Overview. Welcome to the world's first mobile-commerce platform!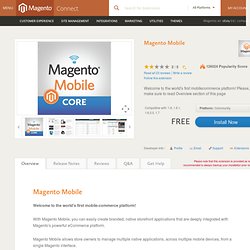 With Magento Mobile, you can easily create branded, native storefront applications that are deeply integrated with Magento's powerful eCommerce platform. Magento Mobile allows store owners to manage multiple native applications, across multiple mobile devices, from a single Magento interface. Magento Mobile supports the most popular platforms: iPhone, iPad and Android. Compatibility Magento Mobile is compatible with the following versions:
---