The truth of the world makes humor
Welcome to the " Notes From Chris" gallery. These are notes that I post around New York City from a mysterious man named Chris. Chris wants to do tedious things with people.
SOUNDS DEMONIC: Half speed "Baby Laughs at Bubble-eating Dog" (Video
Dogs Can't Look Up | Nicolas Cage Is Concerned Once More | Good Times...
How to write a paper in college/university: 1. Sit in a straight, comfortable chair in a well lit place in front of your computer.
The following quotations are taken from official court records across the nation, showing how funny and embarrassing it is that recorders operate at all times in courts of law, so that even the slightest inadvertence is preserved for posterity. Lawyer: "Was that the same nose you broke as a child?" Witness: "I only have one, you know." Lawyer: "Now, Mrs. Johnson, how was your first marriage terminated?" Witness: "By death."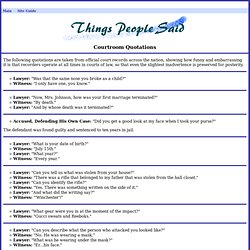 I Am Hilarious | A Guide to Laughing at the Web...Hard!
World Beard and Moustache Championships™ - The Official Site
The Brick Testament