Music
Guitar. Facebook. Gabriel Jackson- O Sacrum Convivium (Polyphony, Stephen Layton) French → English Le temps des cathédrales lyrics - Notre-Dame de Paris (French cast) lyrics translations. French Le temps des cathédrales [Gringoire]: C'est une histoire qui a pour lieu Paris la belle en l'an de Dieu Mil quatre cent quatre vingt deux Histoire d'amour et de désir.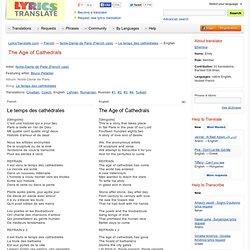 LUNE Lyrics - NOTRE DAME DE PARIS. Lune LyricsLune lyrics(Gringoire) Lune…….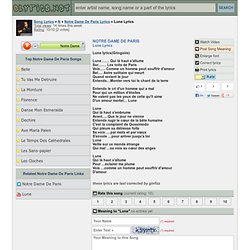 Qui là haut s'allumeSur……. Eric Whitacre – Composer and Conductor. 7 Alternatives to Pandora and Last.FM | Mystery Tricycle. Whether you are annoyed by the ads on Pandora, the limited number of skips, or the abyss of cruel 30-second song teasers from Last.FM, many online listeners are growing weary of mainstream methods of hearing new music.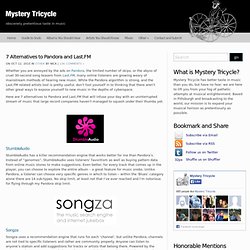 While the Pandora algorithm is strong, and the Last.FM related artists tool is pretty useful, don't fool yourself in to thinking that there aren't other great ways to expose yourself to new music in the depths of cyberspace. Here are 7 alternatives to Pandora and Last.FM that will infuse your day with an uninterrupted stream of music that large record companies haven't managed to squash under their thumbs yet. Blow at life. ► Flightless Bird, American Mouth by Iron & Wine | Songs to lie on your bed and stare at the ceiling to | lytebryte25 | 8tracks. Drum Machine.
MUSE. Muse Wiki: Supermassive wiki for the band Muse. Elbow. Lyricsfly.com - Song lyrics search database. Just hear it - Any song. Legal. Free. The Polyphonic Spree - The Quest For The Rest.
---