Cooking Blogs
An Opera Singer in the Kitchen: Lime Cream Parfaits with Coconut-Lime Crumble {Coconut Secret Review}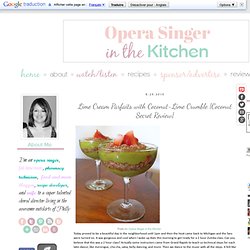 Today proved to be a beautiful day in the neighborhood until 1pm and then the heat came back to Michigan and the fans were turned on. It was gorgeous and cool when I woke up 8am this morning to get ready for a 2 hour Zumba class. Can you believe that this was a 2 hour class? Actually some instructors came from Grand Rapids to teach us technical steps for each latin dance, like merengue, cha cha, salsa, belly dancing, and more. Then we dance to the music with all the steps. It felt like were in a club in broad daylight and it was even more intense than a regular Zumba class.
smitten kitchen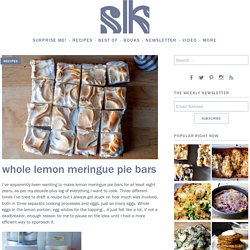 Wednesday, April 16, 2014 baked eggs with spinach and mushrooms My brunch arsenal, the dishes I've made enough times that they no longer cause any furrowed brows — a core entertaining principle here at House Smitten Kitchen (sigil: cast-iron skillet) — is as follows: bacon (always roasted in the oven, I mean, unless you were hoping to mist yourself with eau de pork belly*); some sort of fruit salad (either mixed berries and vanilla bean-scented yogurt or mixed citrus segments, sometimes with mint and feta); buttermilk biscuits; a pitcher of Bloody Marys, a bottle of champagne and a couple carafes of freshly-squeezed grapefruit or orange juice, blood orange whenever available; something sweet (our current favorite) and eggs. As I dictated years ago, everything that can be made in advance should be, thus pancakes, individually fried slices of French toast, omelets and even eggs baked in ramekins, adorable as they may be, are verboten.
I feel like I'm grasping tight to the things around me these days. I'm probably the first to shrug off the change of season, the change of moving cities, and the change of traveling a ton as no big deal…. but it all adds up to matter and I have to admit I feel a little crazy in the brain. This season I've started a new workout routine. Since I've moved away from my beloved SoulCycle in California, I've started practicing Bikram Yoga in New Orleans.
Joy the Baker —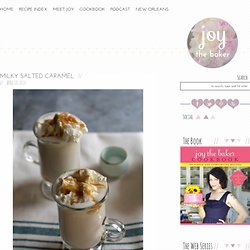 Parmesan Rosemary Brussels Sprouts and Bacon Pizza Apr 7, 2014 | Appetizers/Sides, Dinner, Sponsored | Tags: bacon, cheese, dinner, pizza, weeknight dinner My Parmesan Rosemary Brussels Sprouts and Bacon Pizza is a family favorite.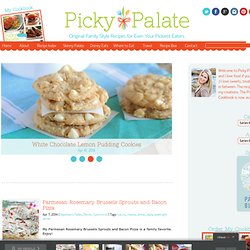 Picky Palate
For the Love of Cooking