Cooking Blogs
An Opera Singer in the Kitchen: Lime Cream Parfaits with Coconut-Lime Crumble {Coconut Secret Review}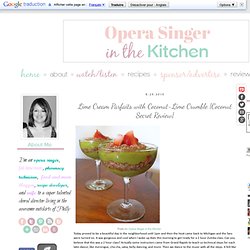 Today proved to be a beautiful day in the neighborhood until 1pm and then the heat came back to Michigan and the fans were turned on. It was gorgeous and cool when I woke up 8am this morning to get ready for a 2 hour Zumba class. Can you believe that this was a 2 hour class? Actually some instructors came from Grand Rapids to teach us technical steps for each latin dance, like merengue, cha cha, salsa, belly dancing, and more. Then we dance to the music with all the steps. It felt like were in a club in broad daylight and it was even more intense than a regular Zumba class.
smitten kitchen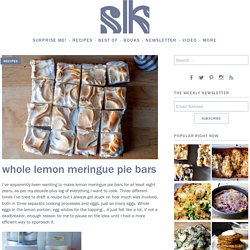 Thursday, January 16, 2014 pear and hazelnut muffins We all know that muffins teeter precariously on a razor-thin line that divides the food categories of "Acceptable for Breakfast" and "Nope, This Is Dessert" and one must maintain firm boundaries during the breakfast hours lest the day that follows devolve into a full-on bacchanal of Resolution decompensation that ends with one passed out amid scatters of Cheetos, ketchup packets and French fry grease with a side of cronut. Thus, when I come upon a new muffin recipe — or in this case, when my son is told to pick a recipe for us to make from a new book, and he predictably chooses the thing that most resembles cake — I immediately assess the list of ingredients and label them accordingly: Continued after the jump »
I feel like I'm grasping tight to the things around me these days. I'm probably the first to shrug off the change of season, the change of moving cities, and the change of traveling a ton as no big deal…. but it all adds up to matter and I have to admit I feel a little crazy in the brain. This season I've started a new workout routine. Since I've moved away from my beloved SoulCycle in California, I've started practicing Bikram Yoga in New Orleans.
Joy the Baker —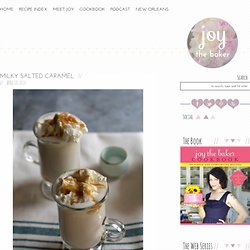 Skinny Greek Yogurt Chicken Salad Jan 8, 2014 | Chicken, Sandwiches and Burgers, Skinny Palate | Tags: chicken, sandwiches, vegetables, yogurt You'll never know this is a Skinny Greek Yogurt Chicken Salad!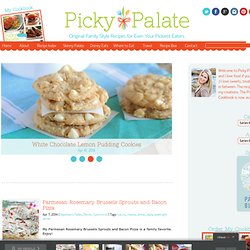 Picky Palate
Peanut Butter Cup Brownie Bites We were having friends over for dinner last night, so I decided to make a treat for dessert. My friend Currié loves peanut butter and chocolate combined so when I found this recipe on Chocolate Therapy, I knew it would be perfect. I followed the directions except for using a mini muffin tin instead of a large muffin tin. They were the perfect little bite sized treats – they were rich, decadent, and so delicious. We all absolutely loved them, especially my kids who told me they hoped I would make these all the time.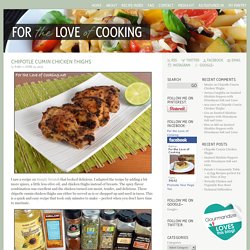 For the Love of Cooking