Information literacy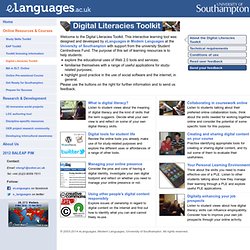 eLanguages.ac.uk - digital literacies toolkit
Welcome to the Digital Literacies Toolkit. This interactive learning tool was designed and developed by eLanguages in Modern Languages at the University of Southampton with support from the university Student Centredness Fund. The purpose of this set of learning resources is to help students: explore the educational uses of Web 2.0 tools and services;familiarise themselves with a range of useful applications for study-related purposes;highlight good practice in the use of social software and the internet, in general. Please use the buttons on the right for further information and to send us feedback. Technical requirements
There are some very popular tools and apps out there. We showcase a boatload of them here on Edudemic. But there's been a growing trend of figuring out how to actually integrate all these together and how to effectively use the best web tools to enhance learning in the classroom. One of the most powerful visualizations to date has been the fabulous Padagogical Wheel (with an 'a' instead of an 'e') that shows how to integrate iPads into just about everything like SAMR and beyond. Now there's a new visual guide that you should check out. It's a pyramid that I spotted on Pinterest here .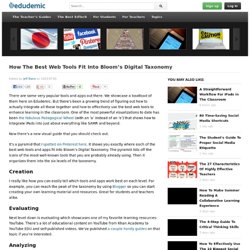 How The Best Web Tools Fit Into Bloom's Digital Taxonomy
mfortably 2.0: The Digital Citizenship Survival Kit
It's a simple little prop I use when teaching Digital Citizenship to our K-8 #aurorahuskies students. I love utilizing props to try to get my point across to students. To me, it helps a student retain the lesson better.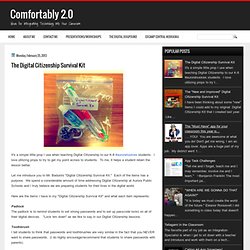 Information Literacy
Moira's InfoLit blog
Adapting PowerPoint Lectures for Online Delivery: Best Practices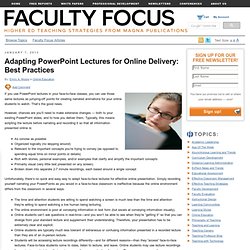 January 7, 2013 By: Emily A. Moore in Online Education If you use PowerPoint lectures in your face-to-face classes, you can use those same lectures as jumping-off points for creating narrated animations for your online students to watch. That's the good news.
Printer-friendly version Send to friend Amber Thomas explores the ways in which emerging research practices and Wikipedia illustrate the changing boundaries of academic work. Wikipedia, the world's fifth most-used Web site [1], is a good illustration of the growing credibility of online resources.
21st-century Scholarship and Wikipedia | Ariadne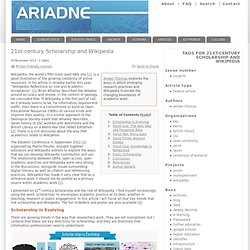 Groups > ILRead
Information literacy – long list of resources | Public Library Info Lit Champions
"As schools change leadership must as well. With society becoming more and more reliant on technology it is incumbent upon leaders to harness the power of digital technologies in order to create school cultures that are transparent, relevant, meaningful, engaging, and inspiring. In order to set the stage for increasing achievement and to establish a greater sense of community pride for the work being done in our schools, we must begin to change the way we lead. To do this, leaders must understand the origins of fear and misconceptions that often surround the use of technology such as social media and mobile devices." Via John Evans, Karen Bonanno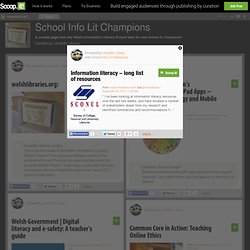 Information literacy – long list of resources | School Info Lit Champions
Can the Digital Generation Do Anything Right? - Marketplace K-12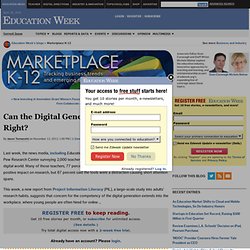 Last week, the news media, including Education Week, wrote about a new study from the Pew Research Center surveying 2,000 teachers on how their students do research in the digital world. Many of those teachers, 77 percent, believed digital tools have an overall positive impact on research, but 87 percent said the tools were a distraction causing short attention spans. This week, a new report from Project Information Literacy (PIL), a large-scale study into adults' research habits, suggests that concern for the competency of the digital generation extends into the workplace, where young people are often hired for online dexterity but, employers say, don't know how to go beyond Google. "[T]hese educated young workers seemed tethered to their computers. They failed to incorporate more fundamental, low-tech research methods that are as essential as ever in the contemporary workplace," says the report, "How College Graduates Solve Information Problems Once They Join the Workplace."
Open University Library Services | Being Digital
Being digital is a collection of short, easy to follow activities. They cover the skills we all need to be effective online, whether it's searching efficiently, critically evaluating information, communicating and sharing online, or selecting the right online tool for your needs. Being digital can help you develop essential skills for study, work and lifelong learning. In 2013 Being digital won the Credo Reference Digital Award for Information Literacy for the best new digital resource for promoting information literacy, in recognition of its innovative approach.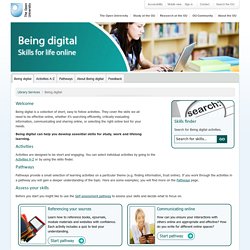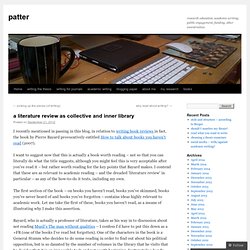 a literature review as collective and inner library
I recently mentioned in passing in this blog, in relation to writing book reviews in fact, the book by Pierre Bayard provocatively entitled How to talk about books you haven't read (2007). I want to suggest now that this is actually a book worth reading – not so that you can literally do what the title suggests, although you might feel this is very acceptable after you've read it – but rather worth reading for the key points that Bayard makes. I contend that these are as relevant to academic reading – and the dreaded 'literature review' in particular – as any of the how-to-do it texts, including my own.
How Google Impacts The Way Students Think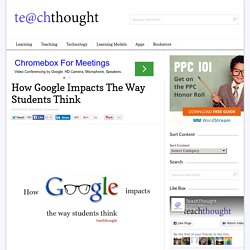 It's always revealing to watch learners research. When trying to understand complex questions often as part of multi-step projects, they often simply "Google it." Why do people migrate?
Implementing ANCIL [licensed for non-commercial use only] / Introduction
e-Safety
You have something in common with the smartest people in the world. You see, everyone has ideas. We use our minds to create something original, whether it's a poem, a drawing, a song, or a scientific paper. Some of the most important ideas are published and make it into books, journals, newspapers and trustworthy websites that become the building blocks for things we all learn.
IJ-SoTL: Current Issue: Volumn 6, Number 1 - January 2012
Editors International Journal for the Scholarship of Teaching & Learning is an open, double-blind peer reviewed electronic journal published twice per year by the Centers for Teaching & Technology at Georgia Southern University. The journal is an international forum for research and information about the scholarship of teaching and learning (SoTL) and its applications in higher/tertiary education. There are two submission periods: September 15 – November 15 and March 15 – May 15.
S3 Home : s3
Dyma neges ddwyieithog felly sgroliwch i lawr am y fersiwn Saesneg / This is a bilingual post, please scroll down for an English translation Model cyflogadwyedd newydd ar gyfer yr unfed ganrif ar hugain: y pwysigrwydd o gyfryngau cymdeithasol a sgiliau cyflogadwyedd digidol Mewn digwyddiad Academi Addysg Uwch yn ddiweddar dan arweiniad Prifysgol John Moores <http://www.ljmu.ac.uk/> yn Lerpwl, cafodd pawb y cyfle i ddarganfod cyngor cyflogaeth a roddwyd i ddysgwyr AU gan diwtoriaid a swyddogion sy'n rhoi arweiniad ar yrfaoedd.
library.wales.org:
Knowing how to organise, filter, research, evaluate and bookmark resources online is a valuable skill for students to gain. However, we can't assume giving students access to a social bookmark tool means they'll know what's expected or will gain the necessary skills. This guest post by Donal O' Mahony shares his experience and advice using social bookmarking with students. Image by The iconoclastic yet iconic ionic icon licensed under Creative Commons Attribution 2.0 Social bookmarking with students When I first taught social bookmarking we jumped straight into using Diigo, a social bookmarking tool, and I soon discovered that the students dumped links irrespective of their quality.
Social Bookmarking with students: Quality not quantity!
A number of studies have demonstrated the problems with insufficient information literacy in the workplace. Bill Boyd (2005) estimates that in a 1,000 person organisation, if you eliminate five minutes of wasted time, such as deleting and organising emails, looking for information that you can't find, or recreating information that already exists, you will save $4,167; if you do that everyday for a year, the organisation will have saved more than $1 million. The 2011 National Strategic Skills Audit for Wales quotes evidence from the 2010 e-skills survey that 1 in 6 employers in all sectors in Wales consider the IT skills of their employees to be below a minimum standard.
library.wales.org: Information Literacy in the Workplace
library.wales.org: Project
Research in Learning Technology
Resources Centre - learning and teaching resources from the Higher Education Academy