Google
Google adds in-depth articles to results. Google is rolling out a new addition to search results called "In-depth articles" ( "To understand a broad topic, sometimes you need more than a quick answer.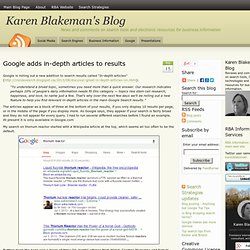 Our research indicates perhaps 10% of people's daily information needs fit this category — topics like stem cell research, happiness, and love, to name just a few. That's why over the next few days we'll be rolling out a new feature to help you find relevant in-depth articles in the main Google Search results." The articles appear as a block of three at the bottom of your results, if you only display 10 results per page, or in the middle of the page if you display more.
As Google says, they appear if your search is fairly broad and they do not appear for every query. How To Make Good Use Of Google's Search Operators. Some of you might not have the slightest clue what an operator is, in terms of using a search engine.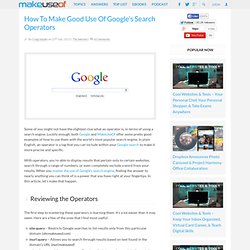 Luckily enough, both Google and MakeUseOf offer some pretty good examples of how to use them with the world's most popular search engine. In plain English, an operator is a tag that you can include within your Google search to make it more precise and specific. With operators, you're able to display results that pertain only to certain websites, search through a range of numbers, or even completely exclude a word from your results.
When you master the use of Google's search engine, finding the answer to nearly anything you can think of is a power that you have right at your fingertips. Google URL Shortener. Now you see it, now you don't. April is going to be a very busy month for me this year.
As well as speaking at conferences I am also giving six full day workshops so am having to prepare the presentations, handouts and notes well in advance. When it comes to the Google sessions the material the delegates receive never matches exactly what they see on their screens during the practicals. How search works – sort of. Google has put together a site showing how Google search works ( The main page is a scrolling animated graphic that just gives you some elementary facts but there are links to more detailed information and videos on the main topics of crawling and indexing, the searching and ranking algorithms, fighting spam and Google's general policies.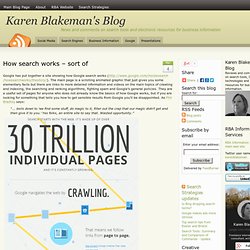 They are a useful set of pages for anyone who does not already know the basics of how Google works, but if you are looking for something that tells you how to get sensible results from Google you'll be disappointed. Google Scholar author fail. Eight months after setting up my Google Scholar author profile and "claiming" my papers I have received my first alert.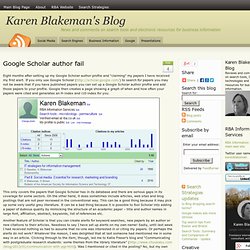 If you only use Google Scholar ( to search for papers you may not be aware that if you have published papers you can set up a Google Scholar author profile and add those papers to your profile. Google then creates a page showing a graph of when and how often your papers were cited and generates an H-index and i10-index for you. This only covers the papers that Google Scholar has in its database and there are serious gaps in its coverage for some sectors.
On the other hand, it does sometimes include articles, web sites and blog postings that are not peer reviewed in the conventional way. This can be a good thing because it may pick up some very useful grey literature. Google makes it easier for kids to find porn. Not what you expect is it?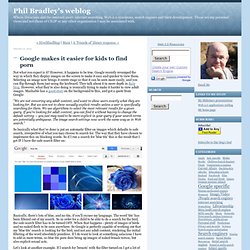 However, it happens to be true. Google recently revamped the way in which they display images on the screen to make it easy and quicker to view them. 3 simple search operators to use with Google. Power Searching with Google. Google Now: behind the predictive future of search. 291inShare Jump To Close For decades, visions of the future have played with the magical possibilities of computers: they'll know where you are, what you want, and can access all the world's information with a simple voice prompt.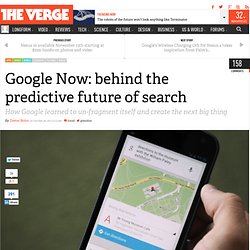 That vision hasn't come to pass, yet, but features like Apple's Siri and Google Now offer a keyhole peek into a near future reality where your phone is more "Personal Assistant" than "Bar bet settler. " The difference is that the former actually understands what you need while the latter is a blunt search instrument. Google search to get more personal. Google search is about to get even more personal – possibly.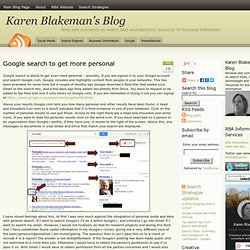 If you are signed in to your Google account and search Google.com, Google includes and highlights content from people in your networks. This has been available for some time but a couple of months ago Google launched a field trial that added your Gmail to the search mix, and a few days ago they added documents from Drive. MsFreckles - Frecklify Your Google Search. Via www.msfreckles.com This is a really nice resource.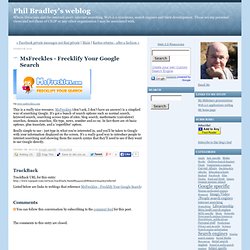 MsFreckles (don't ask, I don't have an answer) is a simplied way of searching Google. It's got a bunch of search options such as normal search, keyword search, searching across types of sites, blog search, mathematic (calculator) searches, domain searches, file type, news, number and so on. Can librarians trust resources found on Google Scholar? Yes… and no. Many librarians are still unwilling to fully embrace Google Scholar as a resource.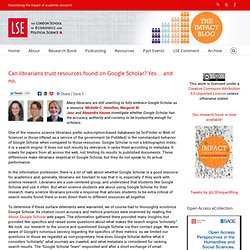 Michelle C. Hamilton, Margaret M. Janz and Alexandra Hauser investigate whether Google Scholar has the accuracy, authority and currency to be trustworthy enough for scholars. One of the reasons science librarians prefer subscription-based databases (ie SciFinder or Web of Science) or those offered as a service of the government (ie PubMed) is the nonstandard behavior of Google Scholar when compared to those resources.
Google Scholar is not a bibliographic index, it is a search engine. Google reducing the number of search results. Noticed anything different about your Google results recently? It might be down to the fact that instead of seeing 10 results on the screen, you're now quite probably only seeing 7. I really don't see the point of doing this, although their reasoning is that if the search is specific enough to warrant less results, that's what you'll get. Yet another irritating Google feature. There was a time when Google would aggregate pages from the same website in your search results.
There might be just a couple of entries for the site with a "More from…." link next to the result. Alternatively you might see a mini sitemap: This has the advantage that you are not swamped with results from a single website but are given instead a variety of options that might provide you with a better answer to your question. Not any more. Beating Google into submission – top tips. Oh what fun we had beating Google into submission on June 28th! This advanced Google workshop was held at Reading University and covered some of the new goings on at Google (no more 'ANDing' for search terms, personalisation of results) as well as the some of the established techniques for making Google behave itself.
The following is what the group came up with at the end of the day as their collaborative top tips for persuading Google to run your search the way you want it run. How Much Do Social Signals Play Into Google Rankings? If there's been one thing that tends to get me going, it's when people in the industry start talking about social signals. In particular, Google using them as a ranking factor. Is this truly the case? Or do a lot of folks have it wrong? Google Knowledge Graph. Google looks as though it's returning to its roots of search with the introduction of the Knowledge Graph. It's only just rolling out, and I haven't got it yet, so I'm using their video to introduce it: What this means is that Google can understand the things in your search query, so we're slowly getting towards the concept of semantic searching.
It's also widening out the opportunity to look more broadly (or indeed more narrowly) at a particular subject. When you run a search, you'll get to see something like this: Google+ hangouts for libraries. Who Googled You? This Website Knows. New Site Helps You Control Google Search Results for Your Name. Google Gives Search a Refresh. The Link Prospector's Guide to the Tilde. Google Knowledge Graph Could Change Search Forever. 2lingual Google Search. How To Switch Off Google's Search Plus Your World Permanently - Google, How to, Social search. Why Google Search Plus is a disaster for search. Making Public Data More Accessible on the Web. Google Advanced Search Showdown. Beating Google into Submission. How to Use Google Search More Effectively [INFOGRAPHIC] Search using your terms, verbatim. Dear Google, stop messing with my search. More Google search insanities. The Google+ Cheatsheet Is a Quick Reference To Using Google+
Good to Know – Google. Google Search Algorithm Change For Freshness To Impact 35% Of Searches; Twitter Firehose Remains Off. Google Blog: Giving you fresher, more recent search results.
---