Ciné & Séries
MOVIECLIPS: Movie Trailers, Previews, Clips of Old, New & Upcoming Films. Spoiler TV - The TV Spoiler Site. Metacritic - Movie Reviews, TV Reviews, Game Reviews, and Music Reviews. Streaming. LiveMegaUpload Telechargement Films Series | Telechargement Series Films. TV Calendar - September 2011 TV listings guide. Rattrapage Replay. La planning de la rentrée US. La rentrée télé américaine, c'est le mardi 6 septembre, dans un peu plus d'une semaine.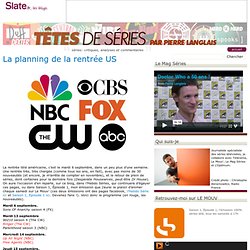 Une rentrée très, très chargée (comme tous les ans, en fait), avec pas moins de 30 nouveautés (et encore, je m'arrête de compter en novembre), et le retour de plein de séries, dont certaines pour la dernière fois (Desperate Housewives, peut-être Dr House). On aura l'occasion d'en reparle, sur ce blog, dans l'Hebdo Séries, qui continuera d'égayer ces pages, ou dans Saison 1, Épisode 1, mon émission que j'aurai le plaisir d'animer chaque samedi sur Le Mouv' (ces deux émissions ont des pages facebook, l'Hebdo Série ici et Saison 1, Episode 1 ici. Devenez fans !). Voici donc le programme (en rouge, les nouveautés). Greatest Films - The Best Movies in Cinematic History. The Internet Movie Database (IMDb) AlloCiné : Cinéma, Séries TV, Stars, Vidéos, DVD et VOD.
ROTTEN TOMATOES: Movies - New Movie Reviews and Previews! Movie Reviews | Film Critics Review This Week's Films.
---