Ciné & Séries

LiveMegaUpload Telechargement Films Series | Telechargement Series Films
.: Dos au mur :. Origine du film : Américain Réalisateur : Asger Leth Acteurs : Sam Worthington, Elizabeth Banks, Jamie Bell Genre : Thriller
Rattrapage Replay
La rentrée télé américaine, c'est le mardi 6 septembre, dans un peu plus d'une semaine. Une rentrée très, très chargée (comme tous les ans, en fait), avec pas moins de 30 nouveautés (et encore, je m'arrête de compter en novembre), et le retour de plein de séries, dont certaines pour la dernière fois (Desperate Housewives, peut-être Dr House). On aura l'occasion d'en reparle, sur ce blog, dans l'Hebdo Séries, qui continuera d'égayer ces pages, ou dans Saison 1, Épisode 1, mon émission que j'aurai le plaisir d'animer chaque samedi sur Le Mouv' (ces deux émissions ont des pages facebook, l'Hebdo Série ici et Saison 1, Episode 1 ici. Devenez fans !). Voici donc le programme (en rouge, les nouveautés).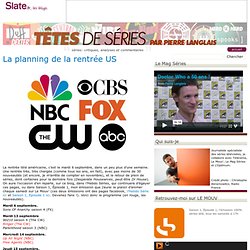 Têtes de séries » La planning de la rentrée US
Greatest Film Quotes of All-Time: By Decade Here are hundreds of the Greatest Movie Quotes of All-Time (organized by decade). They include memorable lines of dialogue, curtain-call lines, and catch phrases, taken from film speeches, one-liners, quips, punch-lines, statements, insults, and even mis-quotes.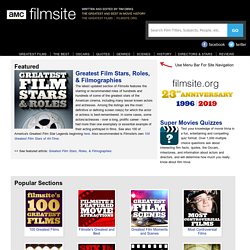 "Expendables 3" : premières images ! Stallone, Schwarzy, Mel Gibson, Harrison Ford, Wesley Snipes... Ils sont tous là. Testez vos connaissances sur "Game of Thrones" ! L'univers du Trône de fer et de Westeros n'a pas de secret pour vous ? Notre guide cinéma "4€ pour les moins de 14 ans"